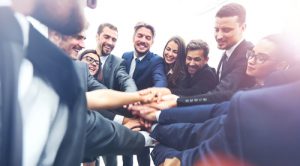 The best way to keep tabs on your work force and manage their movements is with work fore management tools – here are the best software programs for businesses
As an entrepreneur, you face a lot of challenges on a daily basis. From making sure you're hitting your sales goals to staying on top of your staff, it often feels like you're working several full-time jobs at once.
Workforce management is one of the greatest challenges entrepreneurs face, especially those who have just started bringing people on to work with them.
It's easy to manage yourself and make sure you stay on task. It's a completely different situation to keep others focused and motivated, though.
If you're having a hard time managing your employees, there are a lot of apps and tools that can help.
Listed below are eight great workforce management tools that will help you stay on top of your staff and make sure everything gets done when and how it's supposed to.
1. Connecteam.
Effective leadership starts with clear communication.
If it's hard for you to get in touch with your employees — or vice versa — and make sure everyone knows what they need to be doing, you can't really get mad when they're behind on a project or didn't know they were supposed to be working on something else, right?
Connecteam is a mobile-first app that makes it easy for you to communicate with your employees in the office and on the go.
In addition to easy communication, Connecteam also offers solutions for time tracking, scheduling, and workflows.
2. Gusto.
Gusto, which used to be known as ZenPayroll, is a great app for entrepreneurs who are having trouble handling payroll for their business. Gusto even features built-in benefits administration!
This app has an easy-to-use interface and helps to automate several different aspects of the payroll process. There's no need to hire a bookkeeper (or deal with bookkeeping yourself) when you're working with this app.
It comes with an employee onboarding interface, too, so that employees can put their own information in without worrying about privacy issues.
3. Litmos.
As an entrepreneur, you need to make sure you're always learning and growing. You should expect the same of your employees, too.
Litmos is an incredible eLearning software that is designed for business owners and employees in need of training and instruction.
This is a highly affordable software that will help you ensure you and your employees are always working on becoming better versions of yourselves. It even comes with gamification options, too, to keep things fun and interesting.
4. Halogen.
As a business owner, it's important to provide your employees with plenty of constructive feedback. This helps them to understand what they're doing well and what they could be doing better.
Halogen makes it easy for you to do just this. It's a cloud-based app that includes features for employee appraisals. It also has features for succession planning and recruiting new employees.
5. DeskTime.
If you're a new business owner, chances are you're pretty strapped for cash. You might be looking at some of these other workforce management tools and thinking, "yeah, right. There's no way I can afford to pay for that."
Some of these tools might be out of your reach (for now), but there are plenty of others that are much more affordable, including DeskTime.
DeskTime costs just $7 per month for the most popular package. It also has a totally free version if you're really looking to save money.
This is a great tool that allows you to track employee absences, vacation times, and data history. DeskTime is also great for breaking down and managing projects and making sure everything gets done on time.
6. Homebase.
No matter what kind of business you run — brick-and-mortar, online, etc. — Homebase is a great tool to have in your tool belt.
Homebase is a totally free app that allows employees to clock in using their smartphones. It comes with GPS controls, too, to keep employees honest.
Homebase also features an easy-to-use drag-and-drop system for creating schedules and making sure everyone has a clear idea of when they need to show up to work.
You can also use Homebase to send messages to your team members and make sure that everyone is on the same page.
7. When I Work.
If you want a scheduling tool that's a little more in-depth, When I Work is a good option to consider.
This is an especially good tool if yours is a faster-paced business that requires quick and easy schedule changes.
When I Work has a free scheduling software that's great for businesses that are short on cash.
You can also pay an extra fee to gain access to the program's other features, such as the time tracking feature.
Similar to Homebase, you can also use When I Work to communicate with your employees. If you communicate via email or work chat, messages are free. Communicating via text message will cost $0.03 per message.
8. Time Clock Wizard.
This company has a great app available if you're looking for a different tool to manage clocking in and clocking out.
Used by over 1,000 businesses, Time Clock Wizard makes it easy for your employees to clock in and clock out.
It also sends you notifications to let you know who's shown up to work and who hasn't, so you can manage your employees even when you're out of the office.
Time clock app has scheduling features, too. It also makes payroll reporting a breeze and allows employees to request reimbursements quickly and efficiently.
Learn About More Workforce Management Tools.
As you can see, there are lots of workforce management tools you can use to be an effective leader and communicator.
It might take a little time to get used to some of these tools. With a little practice, though, you'll feel like an experienced pro before you know it.
Are you looking to learn about other tools that will help you be a better business leader? Do you want to learn strategies to communicate better and motivate your employees?
If so, be sure to check out some of our other articles today. This one on leadership habits that CEOs must develop is a great one to read first.