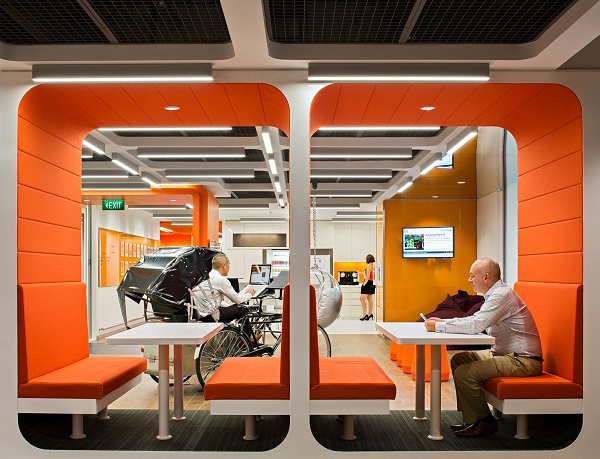 Whether you run a shop, a restaurant or other type of business, the look and feel can start to get dull after a while. A fresh new makeover can breathe new life into your business and give it a whole new look.
Giving your business a refresh gives you something to shout about to your customers, and is a great way to generate some interest and aim higher with your business.
Want to know how it's done? Here are some tips on giving your business premises a makeover, including ideas for all types of budgets.
Finding inspiration.
Getting ideas for your business makeover can be the difficult part – where do you even begin? Fortunately, there are some good places you can find ideas and design inspiration that will soon have you creating mood boards in no time.
Pinterest.
Pinterest is an incredible place to get inspiration for improving the look of your business premises. Taking a look at business interior design can give you some ideas to help you choose the colours and style of your business and see the latest trends. You'll also find ideas on DIY projects you can do if you want to cut your costs and recycle more of what you already have.
Conferences and exhibitions.
Going to design conferences and exhibitions can be a bit like walking around an IKEA showroom. Perfect for getting ideas, as well as seeing what's trending in terms of business decor, layout, etc., you'll be surprised at what you can learn by attending these types of events. The Hospitality Expo is a fantastic place to get some ideas, featuring contemporary hospitality ideas and the chance to meet suppliers who can help you turn your vision into reality. Make sure you take a camera and a notebook – you'll come away with all kinds of ideas.
Instagram.
Instagram can be a key source of growth for your business, especially for small and local businesses as location can go a long way. Take a look at Instagram to see what's trending, especially in your local area. You can find plenty of inspiration by searching for posts using hashtags for your town or city and see what's popular right now. Making your business more Instagram-able could help you increase footfall, depending on the clientele that you want to attract.
Getting started.
After nailing down some ideas for your new business makeover, you'll be keen to get started! Whether you choose to get some professional help or do it all yourself, there are plenty of options available to you.
Think carefully about what you want.
While you might have grand aspirations for your business' interior, there are some practical things to consider as well. You'll need to consider accessibility first and foremost, as well as ensure that your design and layout makes sense for both your staff and customers. You'll also want to consider how much maintenance will be required to keep your new business premises looking spotless, which might make you think twice about going for the all-white decor that seems popular at the moment.
Call in the experts.
Getting professionals in is the best way to ensure your renovation is as stress-free as possible, but of course, there's a cost for that. There are lessons you can learn about working with an interior designer for the first time to help make sure you get what you want from the money you're paying.
Do it yourself.
If you've got the luxury of time and the necessary tools, you can take on your business' makeover yourself. There's something satisfying about seeing all of your hard work come together, and can be a good project for you, your employees or family to all get involved in. Be cautious and safe, as there are always risks posed by DIY jobs. It might take a little longer to go down this route, but this is certainly a more cost-effective option if you're on a budget.
Choosing furniture and accessories.
Now comes the fun part! Just like choosing furniture and accessories for your home can be a lot of fun, choosing furniture for your business can also be very exciting. From budget buys to statement investment pieces, there's a lot of ways you can find the right pieces for your business.
Recycle and upcycle what you have.
Upcycling is still popular among decor enthusiasts, as well as being a good way to help you prevent waste. There are many upcycling ideas you can use for your business, helping you give your new and improved space a more unique look.
Choose a few stand-out investment pieces.
To give your business' premises the wow factor, you should look at choosing some investment pieces that will stand out and form a talking point for your business. Think of items that you can see people having their photo taken next to, or pieces that will transform a sparse space and make it great.
Look at more affordable furniture options.
Not all businesses will have a large furniture budget, but that doesn't mean you can't do some amazing things. Many businesses will look at renting furniture as a way to keep upfront costs low, or you could take a look at some pre-owned furniture that's looking for a new home. You also have the option of flatpack furniture from places like IKEA, which can give you some stylish options for your space. Look for where to save and where to splurge on your office furniture budget to help you prioritise the different items that you need.
With so many things to consider when making over your business premises, you'll need to plan things carefully to make sure you get it right. Don't forget to document your efforts and show off the results to give your new and improved business the attention it deserves. How will you makeover your business? Start looking at ideas now and say hello to a fresh new look.