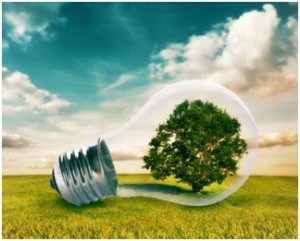 Whether you possess a long held passion for ecological concerns or you've recently been converted to the cause, these simple green hacks are sure to give you food for thought!
The issue of plastic consumption and subsequent waste has been well highlighted more than once by David Attenborough in the past 12 months and the Pope has even had his say. Both of these men command large followings in much different respects but their efforts will doubtlessly help to wake up more of our planet to the problem we're currently facing.
Taking their lead and turning our focus to start-up businesses, here are a few areas where you can ensure your business (or businesses) are playing their part.
Energy Provision.
This one is key because EVERY business in some way will be contracted to an energy provider for the supply of at least Electricity and potentially Gas.
Whilst it is easy to opt for a "Big 6" energy company that brings a sense of familiarity with its brand and a sense of security with its size, can it be guaranteed by them that all energy delivered to your business premises is from renewable sources? No, it can't.
At present only a handful of relatively small energy providers specialise in renewable energy supply and you can compare the best deals from those providers here.
It should be noted that 100% of Electricity is renewable from these providers and some do offer differing percentages of renewable Gas supply. As mentioned above though, Electricity alone should cover the needs of the majority of businesses and signing up with a provider of this type is a great way of underpinning your commitment to solid, green business practices.
IT Equipment.
What will your energy be powering, at the very least some laptops or desktop computers hooked up to a basic business or maybe domestic WiFi router?
Consider you scale and find the need to build an in-house network system and undertake the purchase of network hardware like servers, switches, routers.
All of this could well be bought new, quite easily, but consider for minute that ALL of this equipment were refurbished items. By buying refurbished IT equipment you are reducing impact on landfill space as this is where the vast majority of discarded equipment ends its life.
Specialists like My Next Box can provide everything to get you from bedroom to boardroom and in doing so you can not only save more perfectly good IT equipment going to landfill you can also save on all the resources required to produce the new equipment you could have bought. Double win!
Office Furniture.
Another landfill saver here and given the heavy plastic content of much office furniture, especially chairs, it is something any business should consider.
Now if you're an image conscious start-up or some hoping to complement a certain brand image with your office furniture I completely get how unappealing buying refurbished (or resold) may sound but bear with me!
Not forgetting the aforementioned landfill saving, this can also be done in a stylish manner if you find a specialist in resold furniture like Office Resale who can kit you out with top brand office furniture for a fraction of the original price.
So there you have it, three great ways in which any business can make an immediate and continuous contribution to reducing pollution levels.