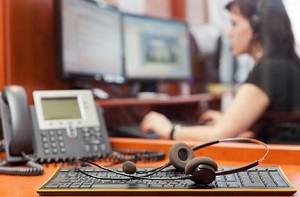 You might have heard by now about the amazing benefits of cloud-based software and services, but haven't yet tried them for yourself. Many business owners are implementing cloud contact centers to improve their operations.
Indeed, a cloud contact center can transform the way you do business by helping you manage all your customer contacts in one place as well as providing a seamless communications experience for live agents and customers alike.
So, if you're looking for a way to streamline processes, increase sales and boost your revenue, then a cloud-based call center might just be the solution in which to invest.
Here are five benefits of taking this step in 2019:
1. Reduced Costs.
A contact center is typically much less expensive to maintain than a traditional physical one, because you don't need to buy expensive equipment or worry about monitoring and maintaining that equipment. Your provider is the one monitoring and maintaining any off-site equipment. This way, you never have to worry about equipment taking up needed office space or wasting away in a warehouse unused.
2. Improved Productivity.
If you want to have more control over your team's productivity — and the customer experience as a whole — try finding a solution with native interaction management and workforce optimization tools that allow you to improve productivity and overall service.
Likewise, if your customer experience solutions are in need of a serious upgrade, migrating it to the cloud can add functionality or modernize your current setup to guarantee proactive outreach compliance, without the added costs of IT investment and up-front capital. Agents, supervisors and administrators can all keep a close eye on performance and address any issues that arise.
3. Enhanced Customer Experience.
Deliver top-notch customer service and enhance the overall customer experience by empowering your employees and customers to answer questions quickly and easily.
With a cloud-based solution, you can handle inbound, outbound and blended interactions seamlessly. You can also provide up-to-date, tailored services to customers with little to no effort.
4. Heightened Omnichannel Capabilities.
These days, customers aren't just calling or emailing businesses to ask for information or inquire about services. They're also using social media, live chat, and SMS/text to make these or other similar inquiries. If you truly want to compete, you'll need cloud-based call center software with multiple channels of communication in order for your customers to connect in the ways they prefer.
So if your target audience is on Twitter, create and maintain your Twitter page and allow users to direct message or tag your Twitter handle to get your attention or to ask a question. It's an approach that puts you on the same level as your customers, making the interaction more personal and natural.
5. Upgraded Scalability and Support.
With the right solutions, scalability is easier, giving you the competitive edge of stability that can handle fluctuations in demand. When you're able to scale, you can pay for what you need instead of spending unnecessary money on equipment that's not currently needed.
With a flexible, cloud-based SaaS solution, you can keep up with your company's changing needs and add or remove services as your business begins to grow. You'll also have the support you need from your provider to maintain and upgrade your equipment.
Improve the Customer Experience.
An upgraded, cloud-based software can improve the customer experience and help you bring in more revenue for 2019. So if you want to realize major growth this year, think about implementing a solution from a trusted provider.
Your customers should always come first — and a cloud contact center can give you the tools you need to better serve them now and into the foreseeable future.