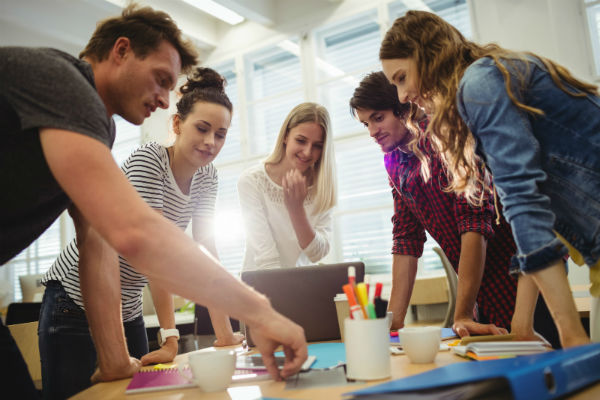 by Stephanie Moore, author of "The Gifted Journey: Five Transformative Steps to Uncovering Your Unique Path"
My first job out of college was working for a phone company selling residential phones.  My first week on the job was spent in sales training.  I'll never forget the instructor. She walked into the room wearing a bright red suit, and not only did she make a statement with her clothing, she also had the teaching style to match. She was vibrant, funny, smart, and engaging. It was apparent that she was passionate about the subject matter and spoke from years of experience. She obviously loved what she was doing. I watched in fascination while she led us through that week — engaging us and holding our attention —  and I realized that I was intrigued about this type of work. In fact, I was moved to find out more about this possible career path. After the training, I asked my manager for advice about finding a career in training. Her response was less than encouraging. It went something like this: "You don't want to do that kind of work. I've done it and it's really tough. You have to travel all the time and it's exhausting. Besides, you don't even have the experience or education to do that sort of work. You're better off doing what you are doing." And with that, she shot me a look that said, "Now get back to work!"
Have you ever had your hopes and dreams shut down inadvertently by some well-meaning person?
When there are outside influences directing our path, it can feel like we're "oozing" from role to role, or decision to decision. This lack of direction and control over our destiny can make us feel as though we never truly own our own lives. I've coached many individuals who felt like they had "settled" in their lives, and they can now appreciate how all the past advice, as well-meaning as it was, had led them there.
Fortunately for me, my second manager was a true developmental manager.  During my first one-on-one, get-acquainted meeting with my new manager, she asked me what I could see myself doing in the future. I remember feeling hesitant and somewhat vulnerable. Should I share my deep-seated desire to move from sales to training? How would she receive this information? The mere fact that she asked me this question at all led me to trust her just enough to share that I wanted to pursue a career in the training field. When she asked why, I shared my story about the woman in the bright red suit. My manager pondered that for a moment while I held my breath. And then she said, "Then I guess we need to get you in front of people as often as possible. Have you ever thought of being an ambassador for the company?" She explained that an ambassador represented the company at tradeshows, conferences, and at annual meetings, all of which would require making brief presentations. As she was explaining the role, I felt in that moment a sensation of true joy, as if that seed (which had been lying dormant) was now taking root and starting to grow. For the next couple of years, I was an ambassador for the company. I made presentations, learned to use PowerPoint, and how to speak to small and sometimes very large crowds. In 1986 this same manager was promoted to a training role at the company headquarters, and within a month she brought me with her and I ended up in my very first "official" training role. As I've told many groups since then, I owe my career to this woman!
It was because of these two experiences that I realized the impact that others can have on our journey.  My first manager thought she knew what was best FOR me, and my second manager wanted to bring out the best IN me.
The right people are critical to your journey. The wrong people can misdirect your path, but the right people can be a bridge to your future. Over the years I have learned that the Gifted Journey process is difficult to do on your own and in a vacuum. We need trusted individuals who are willing to go on this journey with us. They are like passengers in your car, sitting quietly and listening patiently as you share your thoughts. They can also be active passengers, pointing out road signs in your life that you may have missed. They can also confirm much of what you are learning about yourself through their own perspective and understanding. Having people along on the journey can make this a much more affirming and enjoyable experience.
*Excerpted from "The Gifted Journey: Five Transformative Steps to Uncovering Your Unique Path"
Author of "The Gifted Journey: Five Transformative Steps to Uncovering Your Unique Path" Stephanie Moore is a Gallup-certified strengths coach with more than two decades of experience in leadership development, career consulting, and executive coaching. Her broad industry experience includes the telecommunications, high tech, biotech, manufacturing, healthcare, finance, nonprofit, and career development sectors.