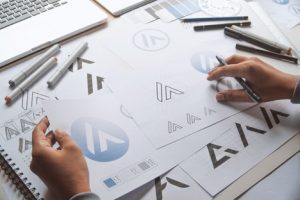 Picture the McDonald's logo without its golden arches or Starbucks without the siren. It seems odd, doesn't it?
While a logo may appear like a minor attribute of a company, it's actually a powerful sales tool that communicates the message and personality of your brand.
So it's development must not be overlooked. There are a few steps in making a logo cool that goes beyond artistic talent.
With all the logos out there, where do you start? Follow these tips to design an awesome business logo.
Let's get to it!
What makes a logo a winner? That's what many designers ask themselves before picking up a pencil to design the first sketch. Read on here for the deets on how to make it cool.
1. Keep It Simple.
First, a logo design must be simple. A simple design makes it easy to identify. The last thing you want is for your logo to be too complex. In complexity, the message of your brand will be lost.
2. Make Your Logo Memorable and Timeless.
Artistic quality isn't as important as memorability. Is it easy to recognize? Think of McDonald's arches.
It's so recognizable McDonald's hasn't changed it for years. When designing your logo, ask yourself if it will be effective in a decade or two from now or even half of a century later.
You want a logo that is never based on a trend. It needs to be timeless.
3. Does Your Logo Resonate with Your Target Audience?
Make your logo match the personality of your customers or target audience. If you are a financial institution with a conservative audience, keep the colors downplayed.
Financial institutions often use white as a background with one color in the foreground.
On the other hand, if your audience is young people or Millennials, you can make your logo more vibrant to match your customers.
Many cruise logos have blue as a color to mirror the sea. These are some of the ideas to keep in mind when designing your business logo.
Tailor your logo to your audience, and they will love it!
4. Is It Functional?
For a logo to be flexible, it needs to be functional for many uses. Will your logo be easy to scale larger or smaller in size without compromising quality? Think about how your logo will look into printed formats as well as on digital platforms.
It's important to think about the contexts in which you'll use your logo before signing off on the final proof.
Designing a Killer Logo: The Process.
With the foundations discussed above in your mind, it's time to begin the process of designing your company logo. While there are no hard fast rules to stick to during this process, there are steps to consider to achieve the best results.
1. The Creative Brief.
Creative teams in advertising departments meet with clients to create branding materials and advertising and marketing communications during campaigns.
The reason? To convey the appropriate message to reach their target audience and lead that audience to action.
When preparing the creative brief document, you'll collect information to communicate the vision for your company and your company logo.
Some of the questions can include the following. What's the look and feel? Do you want your brand to be warm and fuzzy, friendly and agreeable, or expert and authoritative?
Your design, of course, will reflect the look and feel from its colors, its design elements, font selections, and its tagline, which is often part of the logo.
During the briefing process, you'll define your customer. Is your customer an expectant mother? Then you'll probably want to make your logo feminine or use pastel colors.
Look and feel includes selection of color, tone, font, and other design elements.
2. Research Your Industry.
Do some research. Look into the history of your industry and also research your competitors. Particularly look at the leading brands in the industry.
But whatever you do, don't copy their logo design. Copying a competitor will be recognizable to your competitor and visible to your customers.
See which logos have been successful and stood the test of time in your industry. See which are fleeting. You may be aware of some that come to mind.
3. Decide Who Will Design Your Logo.
Once you've got the details to understand your target audience, you'll need to decide if you'll be designing the logo yourself or hiring a professional graphic designer to do the job.
If you don't have a big budget, you might want to do the logo by yourself. Today, the internet has websites that make it easier for small businesses and startups do attractive logos on their own.
Some websites offer free logo designs like this one that has an online logo generator.
4. Make It Original.
Having a logo unique to your company will enable your customers to see your creativity.
On the other hand, while it's useful to see what your competitors are doing and gather artistic inspiration, do something different. Customers will notice, making you look lazy and lack innovation.
5. Use One or Two Simple Typefaces.
As a rule of thumb for good logo design, stick to one or two fonts. This will make your logo look simple, avoid confusion, and prevent it from looking too busy, which will make it difficult for customers to focus on your brand.
Remember, a customer might only see your logo for a second or two driving by a billboard or scrolling through a webpage. Clean, consistent fonts will draw the eye to your logo and make its great design stand out.
While using a font that contains style is attractive, stay away from wildly expressive logos that look gimmicky. Keep it clean and stylish.
6. Show Your Logo Comps to a Professional.
It's always good to show a few comps to a design professional or an experienced mentor to provide a fresh perspective.
Avoid showing your logo comps to too many people that lack skill in graphic design. It can make the process more confusing.
The Bottom Line on Cool Logo Ideas.
When thinking up cool logo ideas, simplicity, audience research, and functionality rule. Getting to know your audience, choosing a style, tone, colors, and a look and feel that's in sync with your audience's tastes will make your logo rock!
Take your time. Good logos take work, research, and finesse.
Check out some great ways to display your new logo to customers. Or explore our website for more great content on how to be an innovative and successful entrepreneur or small business owner.