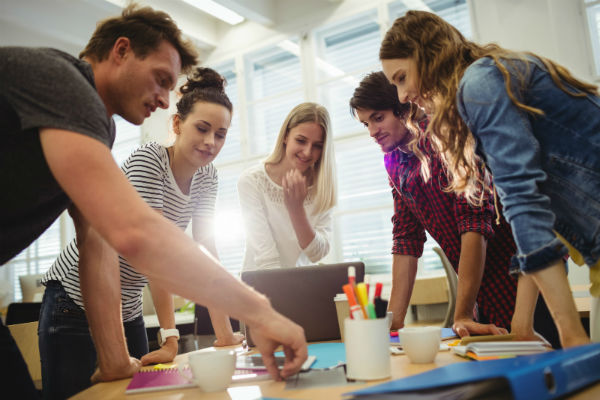 86% of employees and leaders believe that a lack of collaboration and ineffectual communication is responsible for problems in the work environment. The survey carried out by Fierce Inc.com also revealed that 97% of surveyed professionals considered that a lack of alignment within the team had a significant impact on the result of a project. Employees want their leaders to seek and consider alternative opinions before making decisions, and the majority would prefer a culture in which staff are given the opportunity to discuss ideas openly. With enhanced collaboration comes a more cohesive team with extra passion in working towards company goals.
Here are some ways to encourage cohesiveness within the workplace.
Define Team Goals.
Do the individuals that make up your team know and clearly understand the goals that they're working towards? Not only should they be made aware of what is expected of them, but they should also have an idea of what they personally need to do to contribute towards the team's success. Performance should be measurable, and outcomes should be frequently reviewed both on an individual basis and as part of the team, to ensure that everyone is on the same page.
Breaking The Ice.
It can be difficult for work colleagues to get to know each other within a sterile office environment. Why does this matter? Teams that break down barriers and get to know the strengths and weaknesses of their workmates, will be more likely to bond well and celebrate achievements.
Team Building Exercises.
One of the best ways for workmates to collaborate with each other, is to help them 'practice' their skills outside of the traditional office environment. Booking your team on regular multi activity days will allow them to engage in exercises such as field sports and motorised events. Your employees will be split into teams who can go head to head and battle against each other to be crowned champions of the day. Not only do they have a tremendous amount of fun cheering each other on, perhaps undertaking team leadership roles and getting to know their colleagues in an informal setting, but they will also think more favourably of their employer for hosting such a fun event.
Communication.
Effective communication is one of the main skills that will be brought back to the office following your team building activity day. To make the most of this boost, ensure that your organisation has excellent communication channels in place. This could mean sending out a weekly roundup of news from senior management, or establishing regular one-on-one meetings with your team leaders for example. It's also essential that employers listen to the opinions of their staff and are able to give constructive feedback where necessary. This may mean a combination of individual and team merits, explaining what worked particularly well in a project, and what can be learnt from any negative experiences.
A cohesive and collaborative team will mean enhanced productivity and success for your company. Invest in your employees – involve them in decision-making processes, help them work and play effectively together and establish open lines of communication to see superior results.