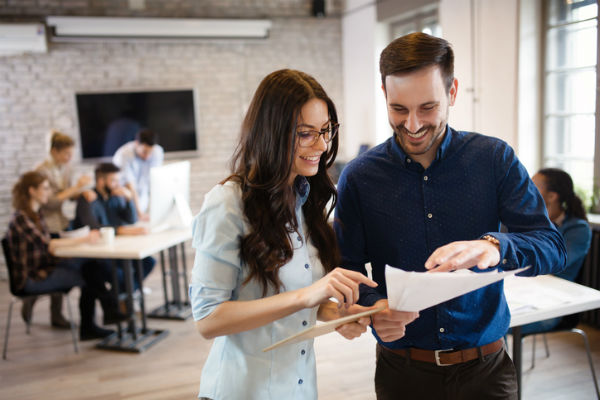 Every business has a human resource department. This is regardless of the size of the business. The HR team of all companies works to find, hire and retain employees. Although it is not possible for technology to take over completely the human resource management, the right software speeds and eases up HR management. HR software also known as HR tools is a software designed to improve, streamline, and automate human resources process and operations.
With the right tools, HR departments will enjoy many benefits such as ease and speed operations in the department.
The following are the benefits of using HR software.
It helps in improving productivity. Many of the HR professionals hate paperwork. However, with the technology, it will be possible to digitalize all the paperwork. This will make it easy to search and update files in the department. Also, the files will be available to all the members of the HR team all the time. The software helps in reducing the number of human errors and the risks associated with errors. Even minor error in the HR department can result in a great loss to the company. An example of such as a loss is the financial loss.
Improve communication is another benefit. When there is an improvement in communication, it becomes easy to collaborate. This can be between your HR teammates, different HR team and also with external associates.
The software automates HR operation which helps to save time. Also with the tools, you can execute tasks quickly and easily.
It helps in improving decision making. The software provides the HR professionals a reliable data. This is important in making more informed and better decisions.
Hiring tools help to improve the quality of new hires. This has a direct influence on the productivity of your company.
The use of HR software to help saves money. This is through various way such as reducing accounting errors, good decision making and saving time.
HR software is mainly specialized in the in specific HR area of interest. Therefore HR software can be grouped on the aspect of HR functions they manage.
This includes:
Recruiting HR software
Administrative HR software
Human capital management HR software
Recruiting HR software.
The software is designed to streamline and improve the hiring process. It is used in sourcing, attracting, testing, and selecting candidates. The following are types of recruitment HR software.
Software for Recruitment Marketing.
The tools help in getting more job applicant since you will be able to reach many people.
Candidate sourcing.
Help in finding the right candidate for the job. There are many candidates online looking for a job but you need to get the right one. You can the right candidates from places like job aggregators a place where recruiters post jobs and professional networks like LinkedIn.
Applicant Tracking System (ATS).
They help in eliminating candidates who are not qualified by automatically screening application form.
Candidate Assessment and Testing tools.
Helps you to check how your top candidates will perform on the job before hiring them. You can also test and compare your candidates' knowledge and skills.
Background checks tools.
Used when verifying the candidates' education credentials, prior employment and even assessing the criminal records. This will help in making an informed effective employment decision.
Video interviewing.
Help to eliminate costs of travel which is unnecessary. You can review the unrevised and unrehearsed responses from your candidates. This will ensure the selection is based on candidate assessment which is not biased.
Administrative HR software.
Administrative HR software is designed to manage the daily HR administrative needs. You will be able to manage employee information payroll, attendance records among others.
The common type of administrative software tools includes;
Time and attendance tracking software. Helps in keeping time track and office information of employees.
Payroll software. Help to automatically calculate salaries for employees, generate tax reports, processing direct deposits among other functions.
Benefits software. Helps in offering benefits plans which fits your employee's needs and wants. Also, help in creating a platform for employee rewards and recognition.
Employee scheduling software. Help in putting the right workers into the right shifts and the right location. This will ensure the employees are happy and productive.
Human capital management HR software.
It is a software tool designed to ensure efficient use, management and development of talent which a company has. The most type of human capital management software tools are;
Onboarding software. It helps in engaging your new employees and aid retention with fully customized welcome programs.
Employee performance software. Helps in evaluations of employee's performance. With this it possible to create a better working culture.
Employee engagement software. Helps in collecting the feedback from employees, analyze it so as to gain relevant knowledge on ways to improve the business.
Offboarding software. This will help to give an employee and organized and fair departure when it is time to go. It will automatically generate certificates of service, final pay summaries, and other required documents.
Small business requires HR Software as much as big business. The following HR software is a good fit for small business.
It provides evaluations tools, real-time rating and support panels for multi-interviewer. It is a mobile app and provides flexibility since users can participate in interviews from anywhere. To also allows recording of interviews by recruiters. The app also has a scheduling feature to help the hiring manager to schedule the interviews when they are available.
It is a very popular recruitment software tools. One of the main reason why it is the most popular is the fact that it can work as a CRM and ATS.  When working as an ATS, it selects resumes for candidates that are most applicable for the job. It then matches the highest quality by analyzing the provided information by the candidate and the job description. This makes it fast for recruiters to connect to the most promising candidates. Bullhorn help in moving candidates through the full recruiting cycle. This is parsing and editing resumes, keyword search, managing and tracking interviews and hiring and onboarding.
It is said to be the Facebook for the job seeker and recruiters with more than 300 million profiles in its database. It is a social networking platform for professionals. It shows the users interests and experience. Here recruiters will be able to see CVs of potential candidates as well as their interest.
It helps in sourcing and importing contacts from external sites, resumes, and social channels by HR managers. It makes recruiters work more efficient by automating search. Prospective candidates are invited by recruiters to the company's talent network.
It helps in employee's benefits tracking and applicant tracking system. In applicant tracking system, it has a catalog of available jobs and data about each job. In employees benefits it allows the company to keep the records.
In conclusion, HR Software tools are in high demand for their ability to automate the HR department operations. The software has proven to solve many challenges in HR. It is important to know not all HR software is the same, and those of the same type differ in features and capabilities. So there are many things you will consider when buying HR software but the important one is to define your own HR challenges and goals.