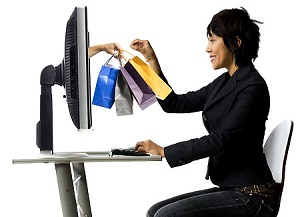 If you ever wished that you had the old mom and pop stores to visit where everyone knows your name, ecommerce personalization is getting pretty close. Besides for the perk of getting a personalized experience on ecommerce stores you have visited before, you don't have to leave the house to get them.
If you are learning about how to best personalize your ecommerce store, there is a lot to learn which means you have a lot of room for improvement and that's a good thing.
Name Usage.
When we visit websites and apps that have our names in different places with "hello, Steve" or "hi, Mary", we know the website isn't talking to us, but it still feels good to see our names and it makes your customers feel good when they see their names too. Having people's names displayed throughout the store in appropriate places will allow you to personalize the user experience so they feel at home on your site.
Showing Relevant Offers.
When you go online to shop at Amazon, as you are searching, you see related products. If you look back at your purchase history, you are likely to see that you purchased products from the section of Amazon that was the related product to something you were looking at purchasing. We all want to have a better experience when we are shopping and if we don't have to go search for a product that we want, but instead have it delivered on a silver platter, it makes life easier.
Show Promotions Depending On Location.
Make sure that you have your location targeting set properly and are working with the best tools. There is nothing more embarrassing than showing hot yoga classes in Phoenix to an elderly man with a cane who lives in Florida. Besides for being embarrassing, it most likely isn't going to convert well. Instead, you would want to show the hot yoga classes to a stressed out mom in Phoenix who is looking for a little me time and show the elderly gentleman his favorite cigar shop from down the road in Florida.
Send Email According to User Behavior.
If your customer was searching online for a product or service on your website, you can send an email that will show them relevant products or services that they might be interested in buying. This is a simple technique, but if you are able to get in front of a hungry buyer, it can also be a high converting technique.
Discount Codes They Want to Use.
If you are like me, you have discount codes flowing into your inbox all of the time. Some of them make you raise your eyebrow wondering, "What were they thinking?" and "Why did they send me a coupon code for a bikini when I was looking at one pieces with cover ups?" If you are close to what someone ones but a little off base, you may get a conversion but most of the time you are going to get a near score but still fall short. This is why it is important to set up your site with professional software that will help you personalize your customer's ecommerce experience.
Data Segmentation.
When you are building your email list, you need to make sure that you are segmenting your data. Everyone should not go into a catch all where you are marketing an irrelevant messages to people. Learning how to segment your lists is essential to personalizing the user's experience. You will be able to send them emails that will make them wonder if you read their mind if you do things properly.
Using Targeting Data to Personalize.
There are a lot of third party vendors that are happy to give you information about people that have come to their websites. Some vendors are better than others and if you are new at targeting and retargeting, you might want to learn something simple. Even learning how to target audiences on Facebook might be complicated for some people. If you are one of these people, this may be a good place to learn since the audiences are put together in such a way that it is easy to choose who you want to target.
Predictive Recommendations.
Predictive recommendations are one of the more magical personalization "tricks" you might see online. If you like this… you might like this… with a list of relevant products that might be what you would want to buy along with a product you just bought or something that the demographic you are in normally would want to buy. These are extremely helpful to the customer and they also garner sales for the ecommerce store so it is a win-win situation.
Why Personalization Is Important In eCommerce.
If you aren't sure that personalizing your ecommerce store for your customers is that important, let me show you otherwise. According to Foundr personalization is the future and if you aren't getting in the game and working on your personalization skills for your ecommerce store, you may not be winning in a year or two even if you are winning now.
People want a seamless experience across all of the different websites and apps that they use to make life easier. Whether it is a food ordering app that remember their favorite menu items or their bank accepting their face as a password, people want it personalized.