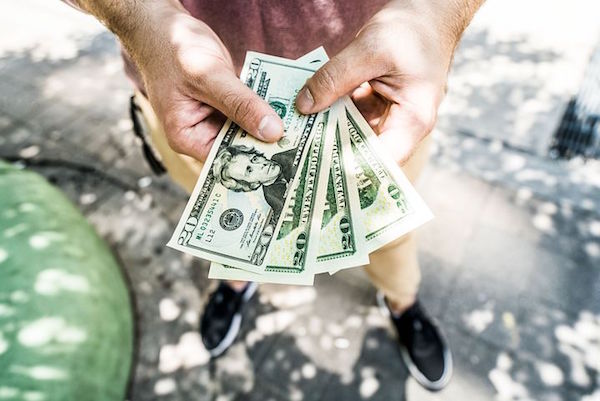 by Joe Levi, founder of Student Money Saver
Let's face it, you didn't choose the life of an entrepreneur because you thought it was going to be easy.
Getting your business off the ground takes countless hours of hard work, plus a little luck.
Finding ways to make money as you establish yourself can prove invaluable on the road to success. I've put together 5 simple ways to help you on your way.
Some of them need a little work; while others generate income on their own once you set them in motion. There should be an option here that's the right one for you.
Let's start with some free money…
1. Cashback.
This is a good way of making spare cash for free. You've probably heard the word 'cashback' floating around, but are maybe not aware of what it is.
Cashback simply means you earn a little something extra on top of your purchases.
How does it work? By registering with companies like TopCashback and Quidco (which you can do free of charge, though watch what plan you're signing up to) you access lists of major retailers, either online or in store.
Online is the quickest, as all you need to do is click on a cashback link when you buy your goods. You are then "paid" a small amount by the cashback company, anything from 1- 5%, though it varies depending on what you're shopping for.
This is basically their commission, which they receive for directing you to the retailer. They've decided to pass it on to you because they don't need it, so it's a win win.
Cashback nobrainers are cashback offers whereby the cost of purchase or signup is lower than the amount of cashback that you get back. So, you are, effectively, making a profit. 
Earn while you surf the web with…
2. Online survey sites. 
Another hack that brings in extra cash is logging onto an online survey site. These take your opinions and swap them for money or retail vouchers.
There are lots of them out there, offering a selection of tasks to be completed, from box-ticking exercises to watching videos.
Now, Swagbucks lets you earn as you play games, but if you're after something more challenging then Prolific Academic are looking for more detailed responses which they send to universities.
You can make approx. £2.40 per hour with Swagbucks, so it's not exactly a money-spinner. However Prolific can pay £10 for a survey. It all depends on how much time you have and what you want to do.
Talking of things to do, how about… 
3. Selling online.
Businesses sell online all the time anyway, but have you thought about offloading things you don't need to make some extra money?
There are plenty of outlets on which to flog your unwanted DVDs, tech, clothing or whatever else you want to offer.
And, the best part is, while selling your unwanted things, you might even discover a market niche and a longer time business project.
Amazon or eBay are long-established sites and Facebook have gotten in on the act with their popular Marketplace, which enables you to sell things in your local area. The best thing about the latter option is there are no fees.
Promote yourself with this next hack and…
4. Become an affiliate marketer.
You can promote companies and their products from the comfort of your own home, or wherever you have your computer or mobile device.
Here's how it works: By directing customers to them via streams such as your social media feed, you can make extra cash just by posting a few links.
This is a flexible way of working that can really pay off, provided you have a big enough following to direct the required level of traffic to their door.
Should you already have a noticeable online presence, then this could be the best method of making money for you. With a lot of effort it could even become your main source of income, so well worth looking into…!
Before you leave, is your house in order…? 
5. Fine tune your finances.
Having total control over your accounts is easy if you're great with figures. That's not always a given for people starting their own businesses.
Some feel they need an accountant but wanting that and affording it are two different things.
Here's the thing – there's always an app that can help you plan a budget and make important decisions. They're cheaper than accountants and some are simple to use, doing some of the hard work for you.
Joe Levi is the founder of Student Money Saver, a website that aims to help students save money on anything from mobile bills and Wi-Fi to train tickets and student holidays. Joe, a natural born entrepreneur, who started his first jeans shop in secondary school, founded the student discount website in the halls of university.  It is now one of the largest student sites in the UK, with a quarter of a million followers on Facebook.