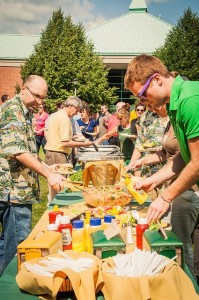 Summer offers up a wealth of opportunities for workers, business owners and office managers. From adventurous team building exercises to lengthy client lunches, you can take advantage of all of this and much more when the sun is shining outside. Despite this, there are also some risks that you need to think about when summer comes around.
Research has shown that productivity levels can dip by as much as 20% during the summer months, and this can have a serious impact on your business' revenue and profitability. That's why we're offering up some easy tips to boost productivity ahead of summer, so that your business can benefit from a happy and efficient team and strong sales all year round.
Offer flexible working hours.
With summer providing longer, sun-filled days, this can help you to make your typical working schedule more flexible for you and your employees. It can be a challenge trying to work with the sun beaming through your office windows and the temperature slowly rising, however, flexible work days can help to combat this.
Instead of sticking to your normal 9-5 work day, why not offer the opportunity for your staff to work longer days during the week and leave early on Fridays?
This can help to motivate staff to work harder during the week, so that they can enjoy a long, well-deserved weekend.
Top tip: If you're concerned about productivity slipping after introducing flexible working hours, make sure to track your employees time too. This will help you to ensure the same amount of work is being carried out.
Embrace alternative working arrangements.
For professionals with children, it can be tough trying to find affordable childcare during the summer months, presenting challenges when it comes to working and parenting.
If this is the case for members of your team, it helps to embrace alternative working arrangements during the summer, such as working from home or from a co-working space like Accelerate Places.
Co-working spaces come with all the advantages of a normal office space, however, desks can usually be rented for a daily rate or on a monthly rolling contract. This gives your staff the freedom to decide when, where and how they work so they can work around their family commitments.
Alternatively, working from home provides a viable alternative for those who have family to care for during the summer. This gives your staff the chance to ditch the daily commute, and research has shown that those who work from home take less sick days than those who don't, which can benefit your business in the long-run too.
Take advantage of the sunshine.
There's no better way to boost morale and productivity in the office, than by taking advantage of the summer sunshine and taking to the outdoors with your team.
Some of the outdoor activities you could do during summer includes:
Walking client meetings

Team building exercises e.g. football, raft building etc.

Outdoor lunches

Post-work drinks in a beer garden

Working outdoors
Plan ahead.
As a small business owner, forward planning will be your best friend during the summer months. This can help you to account for staff shortages and make sure workloads are manageable in summer, where there may be less staff around to deal with clients.
Make sure that you and your team have a shared calendar or system whereby you can see who is off and when. This will allow you to make preparations well in advance and avoid any potential productivity slips.
Reward your staff.
Working away in a stuffy office whilst others are enjoying the sunshine outside is no easy task, that's why it's important to reward your staff for their efforts during the summer months as well as throughout the rest of the year.
Whether this is treating the team to lunch, or letting them leave an hour or two early, your staff are bound to appreciate the recognition and arrive at work the next ready to work even harder than the day before.
Keep communication up.
Communication is key to making sure that your staff's needs are being met both inside and outside of the office.
If there are staff shortages, it's important to make sure to establish a conversation with your colleagues to make sure that workloads are manageable, and stress is kept at a minimum. Make sure to listen to your staff and help them manage the challenges that summer presents, so that productivity and overall happiness in the workplace doesn't suffer as a consequence.
It may seem like a difficult task to keep your team motivated and keep productivity up during the summer, however, with a bit of forward planning and flexibility you can achieve this with ease. Simply listen to your team and make the most of summer opportunities and you'll reap the benefits in no time.