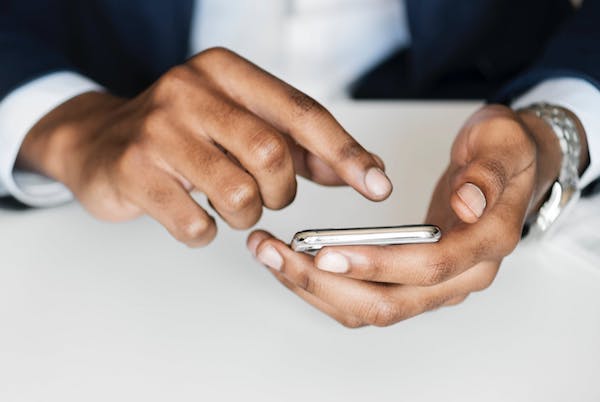 Brochures are still an important marketing tool for entrepreneurs to present their business, brand and projects. Nowadays you probably use your smartphone or tablet as much as your computer, so it's therefore essential to find a service that can meet your needs both in de field of creation and printing on a mobile device.
The current generation of smartphones and tablets offers powerful tools that let you do almost anything you want online. With the help of design apps you can now easily creat your own brochures. And there are all kinds of online printers where you can send the design via your mobile and place an order. We would like to tell you more about using mobile devices to get printed brochures.
Designing with a smartphone or tablet.
Creating a brochure using a design program is not difficult on a computer with a big screen. But how to do this on the small screen of a mobile device? New technologies have forced software developers and sites to innovate. We now find software that fits perfectly on small screens and sites can´t exist if they are not accessible from a smartphone. This results in us being able to realize a full brochure for a company without having to sit behind a desk and turn on our computer. To make life easier, there are many suitable applications that can create an attractive brochure. Free or paid, these applications are easy to download and offer high-end services. You can choose which app best suits what you are looking for. And in most cases you don't even need any design experience to create an engaging brochure.
Success factors for great brochures.
When designing a brochure there are some factors to keep in mind. Think about the font you use for the text and the colours within the brochure. Maybe there are quotes you would like to highlight by using a different font and colour. Make sure the look and feel of the design is consistent throughout and it all fits the brand image. It is important people recognise the company in the brochure. And don´t forget to include images. A brochure that only consists of pages with large texts is not attractive to read and will probably won´t get a lot of attention. An appealing layout were text is alternated with pictograms and images is what attracts people and gets them talking about you. It will make you stand out from the competition.
Print your creations.
Once you have created a brochure on your mobile device, you need to get it printed. For that, what's better than staying in the digital world by using a quality online print shop? Even if you have a printer on your premises, it can be helpful to hire a print professional for high quality results. And to avoid problems with the dimensions of the product, but also with paper quality and colours. Online printing is the ideal solution to meet your needs. Most online printers are accessible with your smartphone or tablet. They offer everything you need to get the best result with your brochure. You can choose the size of the brochure, the number of pages, the type of paper you want to use and the cover to give some examples. You can create totally personalized brochures.
So take out your mobile device and get started with designing a company brochure. And to have it printed, you can immediately forward your design to an online printer.