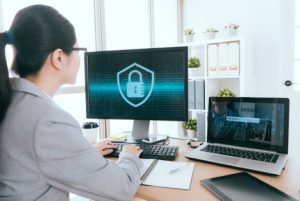 One of the main facets of your business should be how well your website works and performs overall. All of your advertising and social media platforms come together on your website or stand-alone microsite. This is often one of the first impressions that potential clients and customers may have of you. Glitches and server overloads are something that can occur frequently, but they could also be a sign of an underlying security issue.
Web security should be a number one priority and here's why.
Blacklisting Your Website.
If your website has had a plethora of security issues or the amount of traffic has significantly decreased, it may be because it's been hacked or your server is being accessed by an unauthorized person or entity. This can quickly lead to your website being blacklisted by the major search engines. This can drive customers away and cause your overall ranking on the web to quickly fall to the bottom of the barrel, or worse, become non-existent.
Having a secure website that prevents unwanted access is vital to your ranking and popularity on the web. Making your website profitable and popular involves tackling several angles, including incorporating the right SEO keywords to drive customers to it and enough security measures to protect visitors while they make their purchases or set up appointments. The main goal is to keep your website or microsite safe and visible on the world wide web. Prevent being blacklisted by incorporating an all-in-one content management system like Zesty.io to help you organize your content and keep it safe.
Malware Intrusion.
Something else to consider with your web platform is unsuspected attacks by malware invaders. Competitors, hackers, and code crackers all have one goal in mind—to destroy a website and access private files. All of the work that you and your IT guy have put into your million dollar website can be wiped away in minutes, typically unbeknownst to you until after the fact and after the damage has been done. Sneaky malware worms can leave behind seeds of destruction that can send out spam emails and messages to customers and other unsolicited contacts. A malware intrusion can gather personal information and use it to create duplicate accounts and even replicate your website. The result is another company collecting these false profits and not delivering any products or services.
Customer Data Theft.
The one thing that customers want more than the products or services they order through your website is the utmost discretion and security. Having their private information vulnerable to a hacker is a no-no. Aside of having a malware intrusion, another security breach would be hackers that personally attack and use your social media and blog followers to gain new customers for themselves. Customers don't want to visit your social media page only to discover someone is spamming them or harassing them to check out another website or buy a specific service from them. Having a trustworthy social media moderator is an important security measure you must take if you have a wide audience on the web.
Keeping Everything Safe.
With everything from protecting your blog posts, private customer information, and financial data, it can be tough to manage on your own. Hiring an in-house IT person or cyber security manager is imperative in order to track any potential security issues and prevent a security breach from taking place. Whether you outsource a web safety team or you have someone in-house or both, make sure you're made aware of all of the changes and implementations set in place. Making sure that there is more than one person overseeing the operations is important. Proper backup of data and maintenance of the servers should not rely on just one person. In case of a shift of employment or a possible mistake being made, it's important to be able to pick up the pieces and be able to get back up and running as soon as possible.
Web security plays a major factor in your overall reputation in the business world. The time to get a safe and effective plan in place and working is right now. Multiple security facets should be implemented so that should a problem arise, it can be fixed immediately.