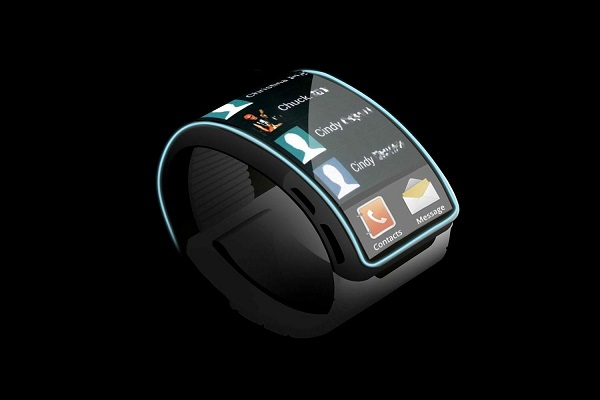 by Shahid Mansuri, co-founder of Peerbits
According to a recent study by the Joint Center for Housing Studies of Harvard University, it is estimated that between 2015 and 2035, the number of people who are staying alone over the age of 75, will nearly double from 6.9 million to 13.4 million. More than 90 percent of individuals aged 65 and older with disabilities live in private homes. Many of them live with a spouse, partner, or family members. However, 35 percent of those over the age of 80 live alone.
The major concern of many families is about safety and security of their old parents /loved ones, when they themselves are not present at home. Until recently, a caregiver was expected to be physically present at the residence of an individual who needed assistance. This is what intruded on one's privacy. Moreover overnight care is very expensive as caregivers have to be paid an overnight "sleep time" rate equal to the daytime rate.
The solution to this problem could be leveraging smart devices, which is growing its market size in this niche area – providing care to old people.
Below graph shows how the global market of smart home is poised to rise by 2022 to 53.45 Billion USD.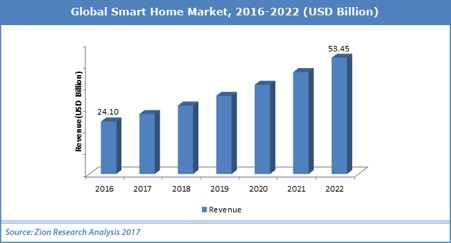 [Image source: www.zionmarketresearch.com]
If you are adding smart home gadgets in your parents or older loved one's routine, few things should be kept in mind.
After installing new devices in your parents' home, write down step-by-step instructions for how to use them.
Make sure your parents have a reliable internet connection and Wi-Fi network if the devices you choose rely on Wi-Fi.
Evaluate how your parents are doing around the device from time to time. Check in regularly to see if the device is helping them. Always be alert of your parents' needs since they could change and require new and different technology.
Following are a list of things which should be addressed by manufacturers who are creating smart devices for elderly people:
Affordability
User experience
Interoperability
Data Security
Accessibility
There are home systems that can connect devices providing increased benefits. Here are some current technology solutions for common aging concerns:
1. Detection Devices – New stove alarms are available, which sound alerts before toxic gases are emitted, helping elderly people prevent potential fire hazards.
2. Medication Reminders – Smart medication pillboxes offer audible or visual cues for elderly people to prompt them to take their medicines at proper intervals. Additionally, remote alerts can be sent to caregivers when their loved one retrieves medication through smart pillboxes. This is a win-win situation both for the older adult and the caregiver.
3. Control from a distance – There are many devices available to assist the physically handicapped or people with mobility issues. Smart thermostats can be activated by remote control or by voice command, thereby eliminating the need to get up to adjust temperature settings. Such devices can also be monitored remotely by caregivers to ensure that temperatures in the homes of elderly people remain comfortable and safe.
4. Chronic Disease Monitors – These devices monitor vital signs and alerts the healthcare providers and caregivers, if there is a deviation in the standard parameters.
5. Personal Safety (PERS) – Personal emergency response systems or PERS can follow seniors as they venture out of the home using GPS monitoring technology. These devices can either be worn as a watch or as a pendant and is paired with the elderly person's smartphone through bluetooth.The elderly when unwell, can push a button on the device which will send a signal to the user's phone to call a team of special agents.These agents can in turn call 911 or the user's emergency contacts (e.g doctor, caregiver, child etc) who can assist the senior person.
6. Other Assistive devices – Other available smart technology enabled devices includes landline and mobile phones equipped with large, high-visibility displays that are both easy to see and manipulate with stiff fingers; keyless entry locks for those with arthritic hands, and curtains or blinds that can be operated with remote control devices.
Wearable technology, thanks to wearable app development, has found its way into many of these categories including fall detection, wandering, chronic disease monitoring, and physical health.
Future of Home Care technology.
The declining cost of microprocessors, along with the rapid growth of connected devices and volumes of data, are creating a number of opportunities for improving the quality of care as well as reducing the cost of care.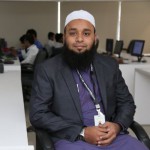 Shahid Mansuri co-founded Peerbits, one of the leading mobile app development companies, in 2011. His visionary leadership and flamboyant management style has yield fruitful results for the company. He believes in sharing his strong knowledge base with leaned concentration on entrepreneurship and business. Connect with Shahid on Linkedin.