by Thomas Smale, founder of FE International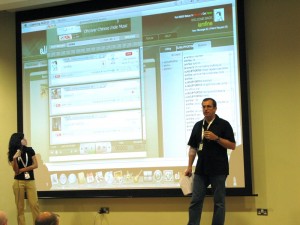 Founding a start-up is hard work, and sometimes feels like a solitary pursuit. This is particularly true in the early stages of a new venture when you may be a solopreneur or working with a very small team.
What if there was somewhere you could go where you can be surrounded by founders just like you? Or where you can network with established, successful founders and investors?
Good news!
There are upwards of 100 digital conferences each year catering to the ecosystem. They run the gamut from affiliate marketing to startup conferences with virtually everything in between.
The FE International team and I attend dozens of digital conferences each year. We've used this experience to take the guesswork out of which conferences are the most valuable for a startup founder to attend.
Here are the top 10:
London, UK. May 10th and 11th, 2018

LTV Conference gathers the finest minds in SaaS in London for two days in May. I have the honor to be speaking alongside Aaron Krall of the wildly popular Facebook group, SaaS Growth Hacks. Also presenting is Patrick Campbell, former Google economist and current co-founder and CEO of Price Intelligently, which pioneers a data-driven approach to subscription pricing for SaaS businesses.

Las Vegas, USA. May 1st – 3rd, 2018

Rob Walling and Mike Taber's popular Microconf comes in two sizes. The Growth Edition (April 29th-May 1st) is for companies whose founders are already making a full-time living from their software products. The Starter edition is for founders who are not currently making a full-time living from their software products but who seek to do so in the future. If you fall into the latter category, Microconf Starter Edition is the conference for you. Its focus on collaboration and networking will introduce you to other founders who have been at the same stage in their business journey that you're at now. You will learn from their successes and their missteps alike through a series of workshops, presentations and networking events.

Dublin, Ireland. October 15th – 17th, 2018

SaaStock hosts over 3,000 founders, investors, and executives from more than 50 countries, making it one of the best venues for both showcasing your SaaS product and learning about how to grow it. If you're at the stage where you're looking for outside investment to take your business to the next level, SaaStock boasts having over 200 representatives of venture capital funds in attendance. With over 40 hours of content spread across SaaStock's three days, not to mention all of the networking events, you'll be kept very busy indeed developing the knowledge and relationships necessary to help you reach your business goals.
Boston, USA Oct 1st – 3rd, 2018

Business of Software is smaller than most of the conferences on this list—by design. A single track conference with a maximum cap of 400 attendees offers an intimate, collaborative environment where founders and entrepreneurs can get to know one another. The ambitious aim of Business of Software is to provide attendees with at least one idea or tactic that will pay a tenfold return on the investment required to attend.

Boston, USA. Sept 4th – 7th, 2018
Since debuting in 2012, Hubspot's Inbound has grown in leaps and bounds to become the world's premier inbound marketing conference. The 2017 edition boasted over 21,000 attendees and more than 250 educational sessions. This year's lineup of speakers has yet to be announced, but past keynoters have been varied and renowned, including Michelle Obama, Gary Vaynerchuck, and Brenè Brown. Expect Inbound 2018 to continue this tradition of excellence.

Lisbon, Portugal. Nov 5th – 8th, 2018

SaasMonster bills itself as the world's largest SaaS conference. It gathers over 10,000 CIOs, CTOs, buyers, sellers, experts, investors, startups and established companies. It is one of 23 conferences happening concurrently as part of WebSummit. Past speakers at Websummit include former US Vice-President Al Gore and musician Bono. Slack's Stewart Butterfield and Asana's Dustin Moskowitz are just two of the previous headline speakers at SaaS Monster.
Cleveland, USA. Sept 4th – 7th, 2018

Are you in the business of content marketing — or is it a vital component of your marketing strategy? Then Content Marketing World is a must. CMW features four full days of workshops and presentations from content professionals at industry titans like LinkedIn, Adobe, Shopify, and Pinterest. Meet other content professionals from around the world, share your challenges and frustrations, and learn how to overcome them.

Seattle, USA. July 9th – July 11th, 2018

Organized by SEO giant Moz, Mozcon is all about search. Moz co-founder and SEO guru Rand Fishkin is just one of the industry thought leaders who'll be sharing their SEO secrets. Yoast's "mad scientist" Jono Alderson and Unbounce co-founder Oli Gardner will also have much wisdom to impart. If you're searching for a way to get more out of your SEO efforts, look no further than Mozcon.

Boston, USA. August 6th – August 9th, 2018

Founded in 1999, Etail was one of the first conferences devoted to e-commerce, and it remains one of the biggest. eTail holds events in markets worldwide including Berlin, Palm Springs, and Singapore. From the biggest retailers to startups, there is invaluable knowledge to be gleaned and valuable connections to be made for e-commerce businesses of all sizes at eTail East.
New York City, USA. July 29th – 31st, 2018

Affiliate Summit is another conference that's global in scope, with outposts in Singapore and Las Vegas. Affiliate Summit East focuses on the performance marketing industry. Attendees include bloggers, online publishers, e-commerce retailers, global brands, agencies and solution providers in the affiliate marketing space. If you rely on affiliate marketing to drive revenue for your online business, consider attending the Affiliate Summit that's most convenient for you to take advantage of the similarly minded professionals available to help you think outside your normal sphere of influence.
Final Thoughts.
There's no question that attending a conference requires a significant investment of time and money. But attending the right conference can pay big dividends both personally and professionally, in both the near and long-term. If you follow this essential checklist for attending conferences, you should be ready to attend any conference primed to capitalize on each minute you're there. Be sure to plan ahead in order to extract the maximum value possible from each conference you attend.

Thomas Smale is the founder of FE International, the leading M&A advisor for mid-market SaaS, e-commerce and content-based businesses. He is a respected expert in the industry with particular expertise in due diligence, online business valuation and strategic exit planning.