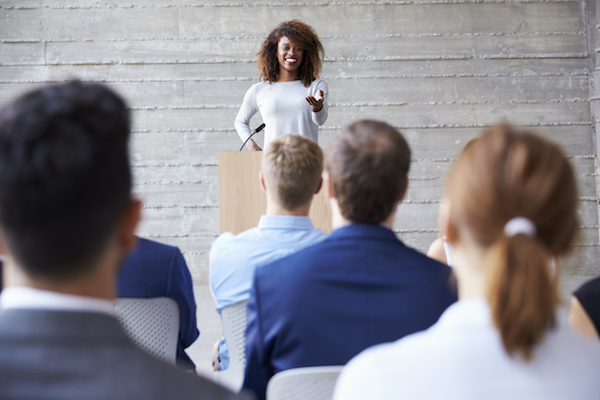 Presentation skills and public speaking are among some of the most valuable and sought-after skills in business today. At various levels in a company or organization, you could be asked to deliver a presentation — a proposal, a report or sales pitch.
Public speaking can be intimidating. However, if you take the time to prepare your presentation and practice, it's not so bad. Here are some tips you can use to brush up your presentation skills.
1. Arrive Early.
It is always better to give yourself sufficient time to settle in before the presentation. Extra time will help ensure you are not late to your presentation, give you time to adapt to the space and set up the technology, if necessary. There's nothing more frustrating for your audience than watching you fight with the technology instead of giving your presentation because you didn't arrive early enough to troubleshoot any issues.
2. Analyze What Renowned Speakers Do.
Check out videos of popular public speakers giving presentations, or read articles offering up their tips like this one about Manoj Vasudevan, the 2017 Toastmasters World Champion of Public Speaking. You can deconstruct their speeches and highlight their tactics, approach and execution.
Then, carefully identify and assess their speaking skills. Use these videos to contrast, compare, critique and correct.  Repeat this process, keeping track of the techniques that seem most effective.
3. Be Organized.
Chances are your presentation will include supplementary material. Passing out several loose documents is unprofessional. A great way to organize the information is with branded presentation folders. CompanyFolders.com has more than 100 folders in various sizes with different pocket styles in case people want to add to their packets.
Decide before the presentation when you want the audience to have their packets. If they have them in the beginning, they might get distracted by the contents instead of paying attention to you. However, you'll probably want to pass them out if you think the audience will want to take notes. Otherwise, you can hand them out as people are leaving.
4. Focus on the Audience.
Remember, the audience has come to gain and learn the valuable information that you are offering. As a result, they have a vested interest in your success. Deliver your presentation as if you're having a conversation, and don't forget to speak loudly and clearly so that the people in the back can hear you.
Be sure to leave time for questions. Try to think of possible questions that could come up while you're preparing your presentation so that you can answer them. If something does come up you can't answer, ask for that person's email address so you can get back to him or her later. This will help build a stronger relationship with your audience.
5. Practice.
It's critical to rehearse the presentation several times. There are several different apps you can download to help practice, too. The apps can analyze your speech for word count, pace, clarity, pauses and more. Teleprompter Pro works like a teleprompter by highlighting where you are in your script, while ProSpeak features various coaches to go over everything from your voice inflection and energy level to your posture and body language. Try practicing your presentation where you will deliver the talk. Doing a practice run for your colleague or friend can be extremely helpful, too.
6. Keep it Simple.
When planning your presentation, keep in mind the central question: What is your key or main message for your audience? You must be able to effectively and briefly communicate that key message. Many experts recommend a giving thirty-second elevator summary, while others suggest that you jot down the main points on the back of a business card.
It's OK to use a slideshow presentation as long as it is a supplement to your speech. Don't read directly from it. Instead, use it illustrate your key points. Speaking of key points, it's best to keep your presentation to three main points so that you don't overwhelm your audience and they'll have an easier time remembering it.