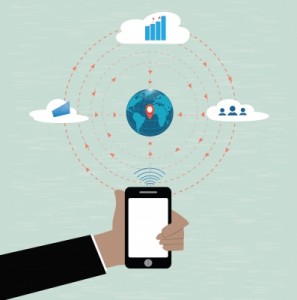 Owning a business in the modern, digital age can be both an exciting and daunting experience, with many business owners, managers and operators struggling to figure out the best and most productive ways to utilize new technology.
One of the problems that businesses face is choosing the right system that's not only affordable, but also scalable and which offers the option of mobility in a business world that increasingly relies on smartphones and other mobile devices.
To solve these problems, many companies are turning to cloud-based platforms, which can be highly beneficial in day-to-day operations and keeping your customers happy.
Here are four areas of your business you should move to the cloud:
1. IT.
Cloud-based platforms are becoming more and more popular with businesses worldwide, thanks in large part to the cost-savings they offer. One of the most expensive departments in any business is the IT department, which generally requires significant infrastructure and staff to maintain operations as well as address and resolve any issues that may arise.
But by moving your IT department to the cloud, you not only eliminate these costs, but also increase the security of your data (thanks to highly-secure remote servers), as well as prevent data or project loss due to a fried internal server or computer glitch.
2. Customer Service.
Engaging with your customers is one of the most essential, if not the most essential, part of any successful business. This is why working with a call center cloud system is fast becoming the go-to method for business-to-consumer communication.
These innovative systems allow businesses to more seamlessly address the questions and concerns leveled by their customers and clients, which, in turn, keeps customers satisfied and an active brand ambassador.
3. Project Management.
Communicating and handling day-to-day work activities via email is quickly becoming a thing of the past, as businesses move more toward internal chat software and other high-tech tools like Asana for the purposes of project management. These systems allow employees to communicate and collaborate seamlessly by working on projects simultaneously, while also giving or receiving instant feedback on a particular project or assignment. As such, cloud-based systems help speed up internal projects, resulting in increased productivity and improved quality of work.
4. Business Travel.
For many businesses, shouldering employee travel costs can be an expensive undertaking, as many employees rely on a slew of equipment for day-to-day work. However, switching to the cloud allows employees and freelancers the ability to access any document or project they need, no matter what equipment they have with them or where they are in the world.
As previously mentioned, this also means better collaboration between internal employees and freelancers, as well as a better customer experience, with employees being able to retrieve information more easily during client meetings and industry conferences.
The Smart Choice.
Moving to the cloud might seem like a big step for many businesses, but it's definitely a step in the right direction, giving companies an added leg-up in a crowded business environment.
Thanks to its increased security and improved communication prowess, as well as its affordability, scalability and mobility, the cloud is a terrific decision to make for the future of your business and the satisfaction of your customers.