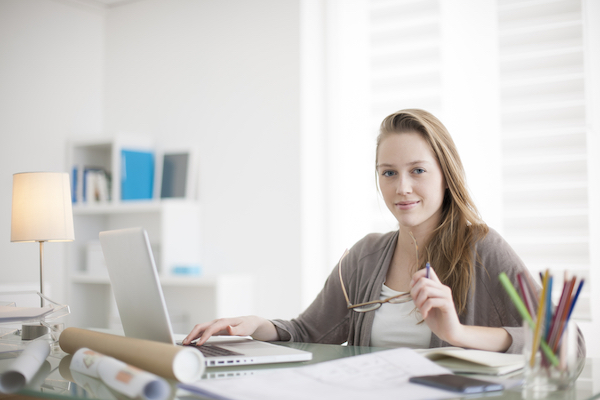 These days, job-hunters have no shortage of flexible jobs to choose from. By some counts, as much as one-third of the American workforce already works on a part-time or contingency basis, a figure that's expected to increase to as much as half by 2030.
More Americans than ever, particularly ambitious young Americans just out of school, are launching their own businesses too.
For many, seeking out flexible work and starting a business of one's own aren't mutually exclusive. Taking a flexible or part-time job in an industry or specialty that interests you is a great way to gain valuable experience — and startup capital — as you finalize your business plan and build the professional network on which you'll need to rely once you're on your own.
These five flexible jobs are particularly well-suited to creative entrepreneurs. Which one fits your talents best?
1. Freelance Designer.
If you have an eye for design, this is the flexible job for you. Barriers to entry are virtually nil: with more than a dozen reputable online platforms for freelance logo and website designers, finding work is as easy as creating a free account, building out a professional profile, and querying potential clients.
2. Fundraising Distributor.
This under-the-radar opportunity is perfect for young professionals who prefer to work from the comfort of home. It's also a great way to give back to the institutions — schools, ecumenical groups, charities — that keep your community strong. According to experts at ABC Fundraising, committed fundraising distributors can earn anywhere from $500 to $5,000 per month, depending on their effort, ability, and the fundraising products they choose to sell. Distributors make valuable connections in their communities too — something that always comes in handy when it comes time to start a business.
3. Marketing and PR Outreach Coordinator.
Got natural sales ability? Try your hand at marketing or PR outreach. It's not a glamorous job, and you'll need to get used to hearing "no" (or being ignored altogether) quite a bit, but it's a great way to build your network and see how the marketing business works from the inside.
4. Customer Contact Specialist.
Customer contact work isn't glamorous either, but it's actually more specialized and skills-driven than many outsiders realize. Some of the world's biggest consumer brands, including Apple, employ thousands of remote customer contact specialists who earn decent money and learn valuable "soft skills" in the process. If your ultimate aim is to launch a consumer-facing business, this is a great way to get your feet wet.
5. Social Media Specialist.
Just like the social media landscape itself, social media specialist roles are ever in flux. One of the few constants is the ability to adjust strategy and style to rapidly changing facts on the ground, even if those new facts don't always agree with your presumptions. Naturally, this is a fantastic skill for aspiring entrepreneurs in disruption-prone industries.
The Future Is Flexible.
There are plenty more flexible jobs where these came from. Many are suitable for budding entrepreneurs seeking to gain valuable experience and build their professional networks. It's up to each individual to orchestrate the opening bid of his or her career, but the case for starting out flexible — and applying those lean lessons to future business endeavors — is stronger than ever.