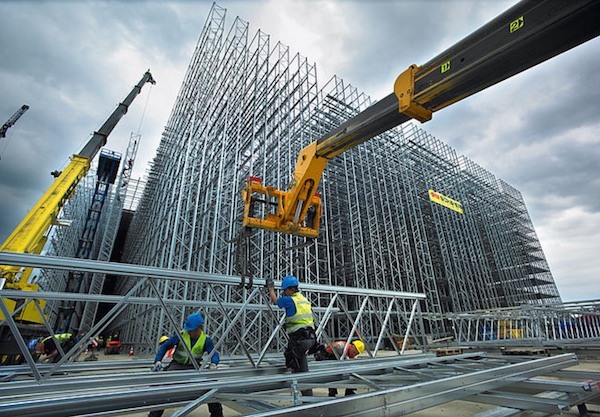 Modular construction could be the building solution that domestic and commercial clients are looking for to establish and extend their homes and business premises. MTX Contracts take a closer look at the benefits of modular building for UK businesses.
Modular building is fast becoming the construction method of choice. With remarkable examples of domestic homes and commercial premises, more and more people are looking to modular construction as a means of creating their ideal property, whether that is a family home or another kind of domestic dwelling, or a business premises.
And it seems that this versatile method of construction offers an array of solutions. A revolutionary modern technique of building, for any business, irrespective of size, there are many benefits to this form of construction.
#1. It's fast without compromising on quality.
For any business, time is money and waiting months – or even years – to have an extension or new premises completed and ready to take possession of is simply unacceptable. But with traditional construction methods, there has been no choice. Modular construction is 30 to 50% quicker than traditional build methods, a benefit every business client can take advantage of.
#2. Built off site.
Any kind of building work is disruptive, whether that is building a small extension or whole new premises. Essentially what off site modular construction means is far less disruption at your current place of work. No traffic lights to clog traffic, and far fewer health and safety hazards to identify and negate. The pods are then transported to site and placed in situ, with the final finishing touches being completed.
#3. Minimal overall disruption.
Of course, it is not just about the physical disruption on site. Building work is noisy, dusty and uncomfortable. It seems to seep into every aspect of your business's daily routine. But again, with the majority of modular construction taking place off site, there is less overall disruption. Your business can carry on operating, without being squeezed by noisy construction.
#4 Ups your eco-credentials
Can any business afford to ignore their impact on the environment, or how waste impacts on their business resources and budgets? Customers have an expectation that businesses are making strides to reduce environmental impact and so when it comes to upping your environmental credentials, modular building is a fantastic opportunity. Using sustainable materials and less-wasteful construction methods, it forms part of your commitment to the environment.
#5. A cost effective option.
You may think that a bespoke building would come with a hefty price and no doubt, using a traditional building method it would. But not with modular construction. In effect, you get more for your money. And modular building can save you money too. An NHS framework is making it its mission to save the NHS £1 billion with more cost-effective buildings, something MTX Contracts is proud to be part of.
#6. Attractive.
Want an extension that fits with your current building aesthetic? Or maybe you want an almost space-like modern finish to your new premises? Or maybe you want a mix of both, but you just know you want it to look attractive. There are no set options when it comes to the final look and appeal of your new build because with modular design you create the whole thing, inside and outside.
#7. Fits your business exactly.
Just to re-emphasise the point, it is within your budget to create a truly unique bespoke modular building whether like previous clients of MTX Contracts you want forensic laboratories, operating theatres, clinics and other specialist medical facilities or educational premises.
#8. Super-flexible solutions.
Your business changes with the ebbs and flows of commerce. There may be time your business rapidly expands in terms of volume of order, or it could be a physical expansion. The impact of technology also places pressure on the space you have to work in. Modular building interiors can easily be changed and modified. Open up the space if you need to or add walls to create zoned areas or separate rooms.
#9. Quality, quality, quality.
There is no business client who doesn't want the top end of quality when it comes to new premises. The quality of finish, construction and building methods are second to none and for turnkey business clients, the benefit of walking into a fully functioning new business premises is ideal.
#10. Durable, robust, warm, energy efficient.
There is no denying the quality therefore there is no deny the robustness of modular building, nor its durability nor its comfort rating. Cool in summer, warm in winter, the thermo-performance of a modular build property outshines that of any other.
From its green credentials to the lower price tag, there is much to be celebrated about modular building which is why more businesses are turning to it as a solution for their property needs.
MTX Contracts create stunning modular build solutions for businesses and commercial clients all over the UK including medical and educational facilities. Hop on over to Twitter for their latest project news @MTXContracts.