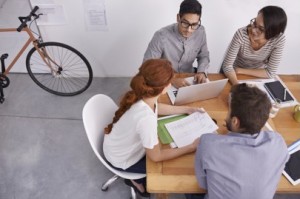 As a brand new upstart, there are many challenges that you will need to face head on. One of the biggest ones is finding ways to effectively market your brand new business so that you start to draw in customers and clients. As an upstart, there's a good chance you don't have a ton of cash to spend on marketing, which is why it's important to be creative and smart when it comes to your efforts.
Here we'll take a look at three creative ways that you can market your brand new upstart, that will bring you maximum results without having to spend more than you budgeted.
Attend Trade Shows and Industry Events.
Because the challenge for new businesses is to get the word out about their company and their products/services, it can be very helpful to attend local trade shows and industry events. That doesn't mean you have to secure a booth or exhibitor space, it just means attend the event and start networking. Talk with industry experts, potential clients/partners/vendors, ask questions, and really just be visible.
When attending these events, you'll want to be sure you have a healthy stack of business cards to give out.
If you are going to be securing exhibitor space, make sure you've got a variety of branded items that you can give out to visitors as they come and chat with you. It's a good idea to have custom stickers made up that you can attach to anything you're giving out.
Engage Through Social Networks.
Engaging with your potential clients and customers is a must when you are first starting out. This can be much easier said than done however. Today, most businesses are looking towards social networks as the most effective way to engage with their customers, answer questions, provide information, and even give that real-time chat experience that can make a huge difference.
Your company should be active on such networks as Instagram, Facebook, Twitter, and LinkedIn. Make sure you are updating each of these networks on a regular basis.
While using these social networks, make sure you use hashtags to your advantage. Hashtags trend, they help your company and posts to be found, and can help your company to look trendy, hip, and knowledgeable.
Hosts Giveaways and Contests.
There is truly no better way to get instant attention than by hosting giveaways and contests. People love free stuff, there is no surprise there, so if you want to get their attention dangle that free carrot. There's no need to go all out with the prizes, even offering free products or services through your company can be great. This also gives people a chance to sample your offerings for free and create word-of-mouth.
It's a good idea to hold these types of giveaways and contests on a regular basis, as this will keep people intrigued and checking in on your company often.
Marketing Your Way to Success.
Each of these tips is designed to help you market your new upstart all the way to success without having to go over budget in your marketing efforts.