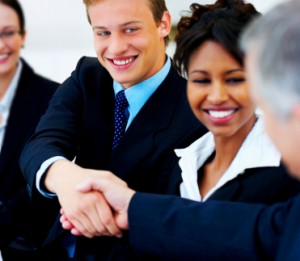 When growing a new business, one of the biggest challenges is getting your name out there and building personal relationships within your target market. And while there are lots of ways to do this, canvassing is one highly effective method.
"Sales canvassing, also known as cold-calling, is an integral part of most organizations' sales strategies," entrepreneur Denise Brandenberg notes. "This sales technique can be done over the phone or in person, and it typically involves making contact with prospective customers for the first time. Rather than just jumping into the visits or calls, you need to create a strategy to ensure your efforts are effective and efficient."
In this article, we're going to focus on in-person canvassing – i.e. going door-to-door or business-to-business and introducing yourself to prospects.
Here are some ways to increase your chances of being successful.
1. Use Your Most Personable People. 
Because of how time-consuming and intensive it can be, a lot of businesses use low-level staff and hourly employees to carry out canvassing. Unfortunately, this doesn't always give off a proper reflection of what the brand is about.
Remember: You're setting the first impression and showing people what your brand stands for. Not only should you be using your most personable team members, but you, the founder, should also be knocking on doors. This gives you a chance to understand your target market and forge powerful connections. 
2. Cut Costs Where Possible. 
Canvassing may be a form of grassroots marketing, but that doesn't mean it's always cheap and inexpensive. If you're canvassing a large area, the costs can start to add up after a while. Finding ways to cut costs will help alleviate some of the pressure. 
Now's the perfect time for you to switch to a compact car that's more fuel-efficient. Canvassing is just the start. You're going to be doing a lot of driving over the next few years and there's no sense in burning money with a gas hog. 
3. Deliver a Compelling Pitch.
You will never have a better opportunity to explain your brand and what it stands for than when you're face-to-face with someone. Considering that you'll get dozens of these chances when you canvas, it's important to have a compelling pitch/introduction lined up and ready to go. 
A lot of sales experts call a canvassing pitch a "script," but don't let this terminology dupe you into thinking it's something you quickly rattle off a sheet of paper. While it should be well prepared, a canvassing pitch needs to be natural and personable.
4. Use Creativity. 
No matter how well you time your canvassing, you won't be able to connect with people at every door. Therefore, it's important to carry around creative ads that can be left on doorknob and doorsteps.
"Go out-of-the-box a little, get creative and get people interested in your business. Sell your company through your ads, but also give people something to talk about," sales expert Sarah Klenke says. "Grassroots marketing, if done correctly, will create a buzz. Ultimately leading to word-of-mouth exposure for your company as well! So take advantage of the opportunity to get people sharing your business with potential customers." 
Get Your Name Out There.
It's important to remember that the goal of canvassing isn't necessarily to close a sale. It's less about selling and more about promoting your brand and educating prospects. Canvassing is better described as a lead generation activity than a sales initiative. If you approach it from this perspective, you'll see positive results.