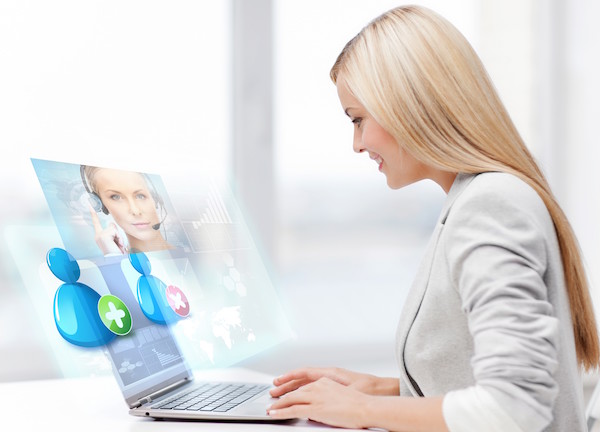 We live in an online world. The Internet has evolved from a useful tool to a necessary component of everyday life, whether personal or professional. That's why so many entrepreneurs no longer have a traditional office to host their business operations.
Having a virtual office reduces the limiting overhead costs associated with starting and running a business, including rent and equipment. On the other hand, running a business without a headquarters presents unique challenges which business owners often don't discover until it's too late.
Here are some must-have tools for running a virtual business:
A Unified Phone System.
One of the most challenging aspects of any business is effective communication. When you don't have the traditional telephone infrastructure of a tangible office, these struggles can be compounded. Fortunately, a virtual phone system can mitigate this challenge.
UniTel Voice Virtual Phone System connects multiple mobile phone numbers through one central, virtual switchboard. If you have a business partner or other employees in your organization, this ensures that the right person is getting reached and that client calls aren't being missed because someone is busy. Furthermore, it adds an air of establishment and professionalism that clients will find comforting.
File Storage and Sharing.
The ability to instantly email documents to a coworker was a huge development in the working world. However, it quickly became apparent that emailing back and forth with edits and numerous versions could be time-consuming and complicated. Live database technology at the time was costly. Now, cloud sharing is cheap, accessible, and secure.
To instantly share important files, or ensure everyone has the most up-to-date information, you'll need an online file sharing method. Dropbox is a popular choice due to its user-friendly interface and added security features. Google Drive is another popular choice due to its integration with G-Suites. Whichever you choose, be sure to put security and usage policies in place.
Instant Communication.
There's a reason group chats have become so popular on social media: you can instantly get an answer to a question and ensure everyone is up to date on the latest plans. This function is equally as important in a business setting, especially in the midst of a big project.
Platforms like Slack allow you to message different channels. So, if you want to have a private chat with your business partner, that is doable. If you decide to send a group message to everyone working on a specific project, it's as easy as the click of a button. If you want to wish everyone in your organization a happy Friday, it's simple and straightforward.
A Meeting Space.
If you're working with a team, sometimes you need to stop typing and start talking. Having a meeting space is crucial for collaborative projects, whether you choose a virtual space or an actual office.
For those looking at virtual spaces, applications such as Zoom and Join.me are great meeting tools that will display multiple attendees at one time. If you're hoping for a more hands-on approach, consider leasing or renting a co-working space. These shared office settings are increasing in popularity in the start-up world, due to their affordability and convenient, innovative nature.
Project Management Tools.
You would think that being able to instant message your team would be enough of a project management tool, but it is still helpful to have a critical path laid out in a user-friendly, visible format. One of your team members might message your group to tell you a task is done while you are in a meeting. By the time you check your messages, that note is a thing of the past. With a project management tool, you will easily be able to check the status of different project steps, as well as assign due dates.
Trello is a commonly used, free, online project management platform that integrates with Slack for optimum communication. It is the virtual equivalent of a bulletin board with post-it notes, creating a clean, easy to read cover page. You can add more details in the posts themselves, so that the main board doesn't become an overwhelming mess. You can also tag users and set reminders within the posts, so nothing gets missed.
The world is shifting away from traditional office settings, allowing people a greater work-life balance and the ability to travel while holding a job. Creating a virtual office has never been easier.