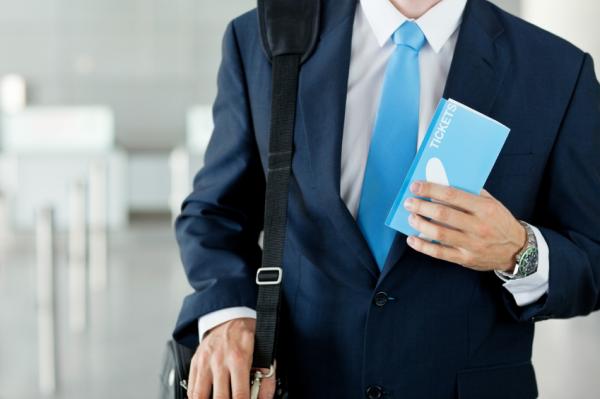 by Basil Elotol, founder and CEO of Triphop
Long checkout lines, sold out hotel rooms and redeeming unused travel points before they expire, are all too common for business travelers during the holiday season. In fact, the holiday season can bring so much stress, that according to the results of a recent survey conducted by Accountemps, 35 percent of the nation feels more work related-pressure this time of the year. This, coupled with the fact that stress and the unhealthy behaviors people use to manage it, contribute to some of our country's biggest health problems such as obesity, heart disease and diabetes, is one of many reasons you want your holiday travel to be as stress free as possible.
I'm an avid traveler who has traveled all around the globe and I've put together these 5 ways a business traveler can make travel stress free:
1. Plan ahead.
Take the holiday season, for example, where you often find yourself being pulled between multiple places; your family, your job, your personal peace of mind. In order to help maintain balance, you will need to plan ahead. So if you know that you will be traveling a few days before Christmas, plan out each part of your trip that will cover all three areas. For example, let's say you are traveling to Chicago for 3 days. You will want to make sure that your flight gets in a day before your meetings to allow time to prepare, decompress from the flight and get a good meal or two in (covering peace of mind). Next, take a look at various hotels that are near the place of your meetings but not more than 30 – 45 minutes away from the airport. This will aid in cutting down commute times and ensure that you can get to your meetings on time (taking care of your job).
And finally, you will want to be sure that once your business is complete, you can get home to your family to enjoy some holiday ham and eggnog, so as soon as your last meeting is done, high-tail it to the airport. Your family will appreciate the extra effort.
2. Pick a travel site that has your best interest in mind.
All online booking sites are not created equal. While many sites promise cheap rates, they often have hidden fees and obscure terms that are tucked away in their 45-page disclosure. A great hotel for $110 dollars a night can easily become $190 dollars with the undisclosed parking fee, taxes and the site's booking fee.
Many popular travel sites now offer a bundle deal if you book your car, hotel and airfare together, but if you do your homework, you will find that you can find lower rates booking the hotel, car and airfare separately. Feel free to break up your travel by booking a hotel on one site and a car on the other. Make sure you do your due diligence when deciding what site to book on.
3. Check and double check.
Once your hotel is booked, don't just show up the day of your check in and assume that your name and confirmation number is in the system. Oftentimes, business travelers get frustrated when they have a confirmation email from an online travel booking company only to reach the hotel and find out their reservation is not even in the system. Make sure you call the hotel company in advance and verify that you are in their system. This takes a few minutes and provides you with a peace of mind.
Some of the newer travel sites such as Triphop.com does this for you in advance so that you don't have to worry about if your reservation is solid or not.
4. Organize and pack important documents.
You do not want to wait until the very last minute to collect and organize all of your important documents. Here is a quick checklist of important documents that every business traveler should remember:
Passport/travel visa (if traveling abroad)
Frequent flyer cards and other loyalty program card numbers (ex: hotel chains and Diner Club)
Cash and credit cards – Call your credit card companies before you travel to inform them of your travel (otherwise they might turn them off to prevent perceived fraud)
Health insurance cards/document(s)
Reservations and itineraries – print them and save them electronically for easy access
Travel insurance information
As soon as you book a trip, it's a good idea to double-check that your passports and IDs aren't expired, and that they will not expire in the middle of your trip if you are traveling internationally. You'll also want to inform your bank of you're traveling dates so they don't assume fraudulent activity and freeze your credit card. Also consider emailing yourself a copy of your passport, driver's license, medical cards and itinerary, so if anything happens to them you'll be able to access them online.
5. Let family and friends know where you are headed or any change in plans.
While you may have alerted your immediate family to all travel plans, it is always smart to give your itinerary to one other person whether it is a close friend, colleague etc. This ensures that if there is a delay in your flight or itinerary and you can't reach one person, that you have an additional person to contact in case things don't go as smooth as you hoped for. Having a few people be in tune with your travel plans helps ease everyone's state of mind, especially when it comes to international travel.
Follow these tips and rest assured you will be well on your way to being less stressed and more confident when you book your next business trip. Bon voyage!
Basil Elotol is the founder and CEO of Triphop, a leading online travel company that has grown to become the most rewarding online travel website in the hotel booking marketplace. With over 15 years in the Travel and Technology industry, Basil has become a leading expert in the space. Prior to founding Triphop, Basil was part of the executive team of a Travel and Roaming Technology startup and played an instrumental role in successfully growing the company to over $200 million in annual revenue.