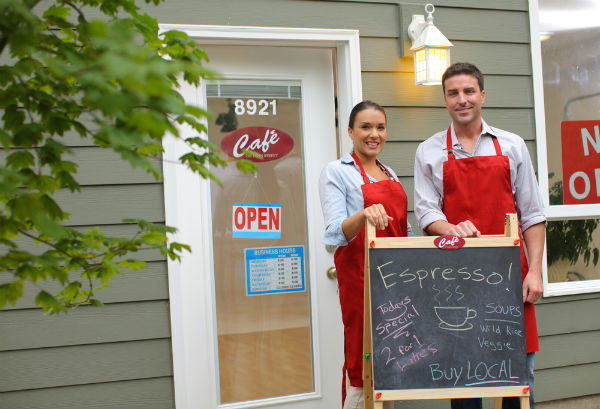 by Brian Sutter, Director of Marketing, Wasp Barcode Technologies
There are plenty of ways to promote your small business for free. The tactics listed here are tried and true winners. They're proven to work by tens of thousands of small businesses. Oh yeah – and they're all free.
1. Partner with a company that complements your products or services.
When I talk to small business owners, this is the #1 tactic they recommend.
To make a partnership work, you need to be offering a truly great service or product. And you need to view the partnership as a long-term undertaking. One event is not enough.
The other trick here is to find the right partner. For example:
There's a raw dog food store in my town. Their product is good enough that one of the local vets recommends the food to owners of dogs with chronic health issues.
The owner of the raw dog food store tells me she gets at least a quarter of her business from this partnership. As a thank you, she supplies the vet office with a few pounds of free treats every month.
2. Encourage and manage your online reviews.
Online reviews are becoming more and more important every year. Most consumers check them before they'll do business with a company.
The secret to getting reviews is to… just ask. But ask when a customer has just expressed how much they like your business. Then make it easy for them to leave a review. Let them know how much it helps you.
3. Support a local charity.
An ongoing partnership with a charity can go a long way to building word of mouth for your business. Just make sure your support is consistent, and that you pick the right charity.
4. Get a free email account.
Email is one of the most widely used small business marketing tactics. There's a reason: It works.
Gradually building up a small but responsive email list is one of the best investments you can make with your marketing. Use a free promotion – like MailChimp's "Free Forever" plan – to send up to 12,000 emails a month to up to 2,000 subscribers.
5. Work social media.
You know how big social media is. And while it certainly helps to have some ad budget to work with, you can do plenty of promotion work for free. Especially on Facebook.
Don't forget to get a few YouTube videos up, too. YouTube is the second biggest search engine after Google.
6. Blog.
Yep. Companies who regularly publish blog posts get far more website traffic of companies who don't.
7. Write a book.
Okay – this one's a biggie. But if you want to be perceived as an expert and have a fab way to get prospects to understand what you do, there is nothing better than writing a book.
Secret tip: it doesn't have to be a long book. 100 pages are enough. Use your blog posts as a rough draft of your book.
8. Write case studies.
These "customer success stories" are one of the most effective pieces of promotional content you can do. You don't even have to have a lot of them. Aim for 3-5 case studies.
9. Create a quiz or assessment tool.
Quizzes or online assessment tools are an awesome way to attract links to your website. You can also use them to do covert market research, or to send more personalized emails based on how people fill them out.
Bonus: Add some kind of benchmark information (like "See how you compare to others") in exchange for people's email addresses. This is a great way to build your email list and to generate leads.
10. Ask for referrals.
This is similar to asking for reviews, except it gets customers directly. And all you have to do is ask.
Just ask at the right time, like when a customer is particularly happy. And ask in the right way. For instance, "If you know anyone who would like our service, please do mention us. We'd really appreciate their business."
Final thoughts.
I gotta be real with you: Not every promotion tactic you try is going to work. Different things work for different businesses. And if even one out of every four things you try does work, consider that a win.
But you do have to try. There's no way to know for sure that something won't work. Business – especially marketing – can be surprising. You also have to give each tactic a sincere try to know for sure.
So here's a bonus tip: Get good at testing promotion tactics. All you need is 3-4 effective tactics to keep your business growing. Then just keep testing and expanding on what works.
Brain Sutter serves as Wasp Barcode Technologies' director of marketing, where he sets the strategic direction and oversees the tactical execution of the company's marketing programs.