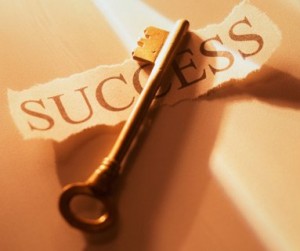 Making money is the yardstick of success in Western culture.
And for better or worse we seldom hear about inspirational people whose achievements measure well against different expectations.
But there are some businesspeople who aren't just 'in it for the money' — their commercial savvy is powered by unique personal experiences and perspectives.
So take a look at these motivational hacks from four successful entrepreneurs to bounce out of bed tomorrow with a fresh new outlook.
Beating bias.
Stephanie Lampkin's CV boasts an engineering degree from Stanford and an MBA from MIT.
But she suspected that being a young African-American woman prevented her qualifications spring boarding her into a suitable Silicon Valley job.
So she launched job matching tool Blendoor to remove subconscious bias from recruiters' hiring processes.
The app allows job hunters to upload their resumes minus names and photos so that ethnicity is removed from the equation.
She grabbed buy-in from firms like Google, Apple, Facebook and Intel — so her negative experience helped her achieve success while furthering diversity in business.
Helping humanity.
Eric Pulier rose from relatively humble beginnings to found a string of successful tech startups.
He worked in a petrol station to fund his way through high school, before studying English and American Literature at Harvard.
But he also built computers as a boy and later embraced pay per click marketing to spread the word on his successful innovations like Starbright World — a service platform that helps patients in over 700 US hospitals.
He's eyeing a move into the biotech sector next — inspired by its potential to help humanity on a grand scale.
Doing things differently.
Business guru Ray Dalio heads gargantuan hedge fund Brigewater Associates.
But he performed poorly at high school and was sacked from one of his first jobs — selling commodities futures.
He established the concept of radical transparency at Bridgewater — a challenging culture where staff at all levels are contractually obliged to rate and challenge each other according to complex criteria.
This experience led to him recording his 'Principles' — a unique set of rules about doing business like a maverick.
He's released these rules in book form because he thinks his open communication style that smashes silos can transfer to many spheres of human endeavour.
So leaving a legacy sometimes comes down to the way you do things rather than what you do.
Being grateful.
Esosa Ighodaro created her COSIGN app to allow people to tag and find purchasable products within photos on social media — so anyone's post can become a shoppable income stream.
She advises budding entrepreneurs to enjoy the ride, eat good food and find someone that makes them laugh.
But her top tip is visualising three things she's grateful for as soon as she wakes up — this ensures every day starts on an empowering, positive note.
There's no secret formula for success, but these motivational hacks from four successful entrepreneurs might provide a smooth shortcut.
Who are your favourite entrepreneurs and why? Share your stories in the comments section.