5 Strategies For Getting The Best Value Out Of Your Meetings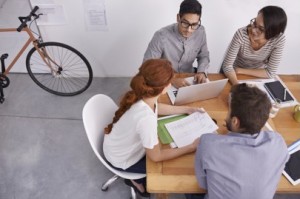 An unplanned meeting is starting out on the wrong foot and you don't need a soothsayer to tell you that the meeting won't be effective. More so, it doesn't make sense to have a meeting where important key players are not around to deliver information or receive information – such meetings are usually a waste of time. Yet, many businesses are busy holding meetings without getting anything done.
This piece provides insight into 5 strategies for getting the best value out of your meetings.
1. Be sure that the meeting is necessary.
A physical meeting is not always necessary; sometimes, a text, an email, or a phone call will suffice to iron out kinks. Hence, you should be sure that you really need a meeting before you start making slides, getting the projector, and booking the conference room. You also need to be sure about the necessity of all the stakeholders you want to invite to the meeting. If you invite people to a meeting where there presence is not needed, they'll infect the other participants with distracting energy, the meeting will not make headways, and you'll waste their time and yours as well.
2. Plan the agenda of the meeting.
When you create an agenda for the meeting, you'll make it easier for all participants to prepare for the meeting in terms of the information they ought to provide and the questions they ought to ask; hence, you'll waste less time trying to find the crux of the matter. An agenda also makes it easy to focus on the most important issues so that you don't dwell on tangential issues or deviate from the most pressing concerns. For instance, if you are interested in how to get expansion capital for your business, you need to ensure that other team members are not coming to the meeting with the intention of finding ways to increase revenue.
3. Bring key players to the table.
After you have determined that the meeting is absolutely necessary and you've zeroed in on the agenda of the meeting, you'll need to work on ensuring that you bring all key players to the tableYou can ensure the presence of all stakeholders by choosing a convenient time and place and letting them know about the meeting well in advance. You should also consider setting the time of the meeting at odd times such as 9:13AM instead of 9:00AM to reduce the chances that they'll be late.
4. Keep your eye on the goal.
Another important tip for getting good value out of your meetings is to stay focused and avoid spending too much time on items outside the agenda. If you call for a meeting, invite the right people, send them the agenda, and you prepare adequately; people will always surprise you by following your lead to stick to the agenda. You can also ask pointed questions from participants in order to "teach" them the necessity of preparing ahead for future meetings.
5. Summarize key points.
A meeting is good but a meeting could end up as time wasted on empty talk if there's no follow up action after the meeting. To ensure that you meetings are actually effective, you'll need to take up the job of facilitating follow up actions. You can start by summarizing key points of the meeting and making sure that all the participants have a copy of the summary. You should also endeavor that every key player who ought to take an action after the meeting verbally announces the actions that they are expected to take after the meeting in order to increase the odds that they'll follow through.

Young Upstarts is a business and technology blog that champions new ideas, innovation and entrepreneurship. It focuses on highlighting young people and small businesses, celebrating their vision and role in changing the world with their ideas, products and services.