by Gail Martin, author of "The Essential Social Media Marketing Handbook: A New Roadmap for Maximizing Your Brand, Influence, and Credibility"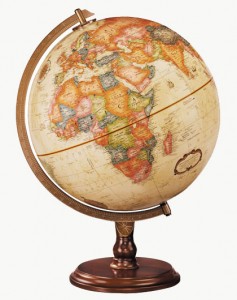 Whether your company is purely local or has a global footprint, you need to be active and visible on social media. Why? Because your prospects and customers expect you to be findable online, and will consider your absence to be suspicious, perhaps even unprofessional.
When a potential new customer meets you, he or she is likely to look for your website to verify the first impression and gather new information. Depending on your type of business, someone might turn next to LinkedIn for a look at your profile. Or, they might look at Angie's List, Yelp, Google or Amazon to see how your product or service ranks and what customers say. Odds are good they'll look for your Facebook page and Twitter feed to see what kind of recent news, specials, coupons or details you've shared, or to get a better sense of your personality.
Any time you leave a void in that cycle of discovery by your absence, there's a piece missing in the puzzle. Your prospect is trying to put the pieces together to get a complete picture of who you are, how well you serve our customers, how you see your role in the world, and how much you interact and engage with others. If you're not findable on social media with recently and consistently updated content, you risk looking unapproachable at best and behind the times at worst.
Stay Local.
I've heard owners of mom-and-pop local businesses ask why they need to be on social media that is seen around the world when their customers come from down the street. There's a curious perspective there, assuming that only people in far-away places use the internet. The short answer is: Because your local customers also use Facebook.
Social media has become the source for news and information for a large (and growing) chunk of the population, across all age and economic brackets. Consumers make purchase decisions based on the information they find online. It's a definite disadvantage when your customers can learn more about a competitor with a few web clicks than they can about you. Highly motivated prospects may make the effort, but most won't bother. Now that people are used to being able to do some 'stealth' intelligence gathering by going online, it seems intrusive and bothersome to make a phone call or request information by mail.
Remember that social media is supposed to be social. Use it to get into conversations with your most enthusiastic customers. Find out what else they like aside from your products to flesh out a psychographic profile of your core tribe. You might get great ideas for collaborations, joint ventures or cross-promotions. Ask their opinion, even if it's about who might win the Super Bowl or the what's the best green bean casserole recipe for Thanksgiving. People love to be asked, and they love to share. Give them glimpses of your life outside of work: pets, hobbies, vacation snippets, favorite foods, etc. In a world where people feel increasingly disconnected from others, sharing personal touches builds community and also strengthens the like-know-trust factor.
As a local business, your local-ness is one of your greatest strengths. Play up your participation in local festivals, parades, sporting events, school programs, street fairs, business organizations, charities and recreation. Snap pictures of you and your employees out and about in local places or nearby parks or attractions. If you are the most recent proprietor in a long-running family business, share old photos and reminiscences. Give shout-outs to customers who get recognized for being active in local community-building, charity, business and education programs. Your Facebook, Twitter, and Pinterest can become the online equivalent of the neighborhood's favorite front porch, where everyone gathers because that's the place to find your friends.
Go Global.
Even if your clientele spans the globe, you can use many of these engagement strategies, just tweaked for your broader market. Instead of focusing intensely on one location, emphasize the world-wide nature of your work with travel photos, pictures posted by your customers from various countries, or quizzes and contests with a globe-trotting focus.
Use case studies and stories to illustrate how your services or products make your customers' lives better and emonstrate your adaptability to differing cultures. Play up your community and volunteer involvement regardless of where in the world your staff is located.
Give customers the sense of your personal presence with video. If there's a language difference, use subtitles if you're recording in English, or provide a translated text. Facebook, Twitter, LinkedIn and YouTube serve a global audience. Use them to build an online community of your raving fans.
*Adapted from "The Essential Social Media Marketing Handbook: A New Roadmap for Maximizing Your Brand, Influence, and Credibility"
Gail Z. Martin owns DreamSpinner Communications and consults with professionals and businesses in the U.S. and Canada on strategic social media. Her newest book is"The Essential Social Media Marketing Handbook: A New Roadmap for Maximizing Your Brand, Influence, and Credibility". She is also the author of three other bestselling books on new media marketing: "30 Days to Social Media Success", "30 Days to Online PR and Marketing Success" and "30 Days to Virtual Productivity Success" as well as "Fresh Start Success: Reinvent Your Work, Reimagine Your LIfe and Reignite Your Passion".