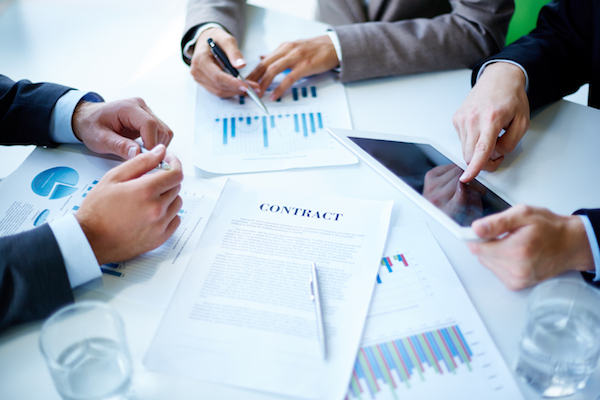 by Shari Levitin, CEO of Shari Levitin Group and author of "Heart and Sell: 10 Universal Truths Every Salesperson Needs to Know"
Are you paralyzed by fear? Good. What you're afraid to do, you must do. The question you're afraid to ask, you must ask. In this article I will look at "getting out on the skinny branches." Failure is inevitable. Resilience is a life skill, one that will fill your soul and your pocket.
"I learned that courage was not the absence of fear, but the triumph over it. The brave man is not he who does not feel afraid, but he who conquers that fear." — Nelson Mandela
Too many entrepreneurs, business owners and sales people panic at the thought of hearing "No." I understand why. If you're like people, your earliest memories from childhood sounded like, "No! You can't have the cookie… No! You can't go outside now…" From an early age, we learn to recoil at the very word. But in the corporate world, as in life, if you never deal with your resistance to the word "No," you will never reach your goals.
We are often taught that No's are a necessary evil, or a hurdle to overcome. But top performers think of No's differently. They look for the No's. Instead of setting goals for the number of Yeses they get, they actually celebrate their No's and learn from them.
Once you understand why you need the No's, you will uncover objections, make the tough calls, and find creative ways to break through walls and barriers. Nice guys don't finish last, quitters do. Ask an Olympian.
Get out on the skinny branches.
Go after the low-hanging fruit and you'll be competing against lots of cherry-pickers.
Take the more difficult path and you will reap greater rewards.
Or, as my friend David Atkins, a sales manager, put it: "Get out on the skinny branches."
David likened sales success to climbing out on the skinny branches of a tree. "The most important sales virtue is courage," he said. Top performers take chances. They create strategies to face rejection, and they accept that failure in an inevitable and necessary stop on the road to success.
Summon your courage to face your fears:
The call you're afraid to make is the call you must make.
The question you're afraid to ask is the question you must ask.
The conversation you're most afraid to have you must have.
Try it… Right now, make a list of the ten people that you are most afraid or embarrassed
to contact. The big accounts, the ones you're not ready to call, the scary ones. Great! That's the easy part. The hard part — but the most satisfying part — comes next. Pick up the phone, knock on the door, reach out to those people and go for the sale!
Navigate the no's.
You'll get "no's" at every stage of the sales process:
Prospecting: CEOs don't return your calls, your emails go unanswered, and people who promise to get back to you disappear like Houdini.
During Your Sales Call: Their arms are folded, their watch is more intriguing than your stories, and they suddenly must attend an urgent meeting.
Objections: They read you a laundry list of what's wrong: why the competition is better, your product is too expensive, and your customer service is lousy.
The Final Close: You've answered all of their questions and concerns, so you ask for an order. It seems it's the perfect solution for them, but they can't (or won't) buy today.
The following techniques are useful whenever you hear "No."
• Listen fully before you respond. Don't become defensive. I am always amused at salespeople who apologize or criticize customers when they disagree. Breathe. Let the customer finish their train of thought. Now ask yourself: is this a deal killer? Many objections are valid — the customer just needs more information. Some test you to gauge if you will answer their concerns truthfully.
• Answer a question with a question. Listen fully and clarify the customer's "no" with a question. This is an extremely effective way to reduce ambiguity — just be careful not to overuse this technique. Remember that questions are often objections in disguise.
• Know when to isolate a "no." You've had it happen before: Customers that rattle off question after question, concern after concern. It sounds like an endless sea of "no's." Don't give up. Instead, ask a question that isolates the customer's concern and listen carefully for the response.
No is a Negotiation Tool.
No helps you hit stretch goals.
The Lion in the Wizard of Oz traveled far, risked his life, and defeated the Wicked Witch of the West in the hopes that when he reached the Emerald City, the great Oz would grant him courage. But when the curtain fell away, the wizard was revealed to be a little man speaking in a megaphone, frantically tugging at levers.
It's all smoke and mirrors. Too often salespeople hope someone, anyone, will give them the answer. But no one will ever hand you a badge of courage unless you earn it — which is exactly what the Lion had already done on the way to meet Oz.
Courage isn't something that happens to you — it is generated by your actions. Courage must be practiced. If you wait to take action until the fear goes away, the inspiration will never come.
An internationally known sales strategist, writer, speaker and entrepreneur, Shari Levitin is CEO of Shari Levitin Group, a global training and consulting firm with clients in over 48 countries, and one of Inc. Magazine's Fastest Growing Companies. Shari Levitin Group also includes Levitin Learning, a unique virtual university with more than 240 online courses. Her new book, "Heart and Sell: 10 Universal Truths Every Salesperson Needs to Know".. Learn more at ShariLevitinGroup or connect through Facebook, LinkedIn and Twitter.