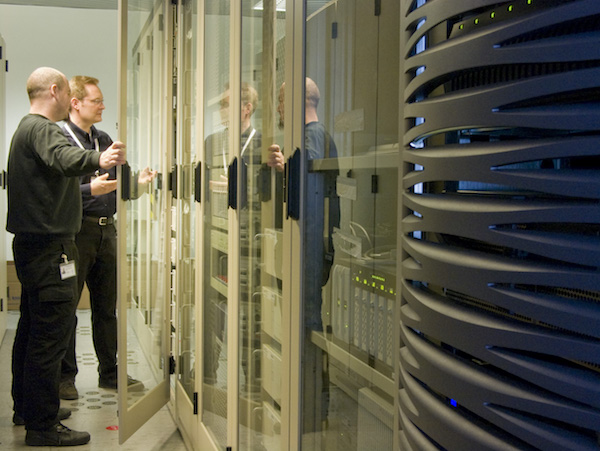 It's becoming increasingly apparent that advanced education is a tool to help professionals in many fields enter or move upwards in their careers. While your resume or curriculum vitae should call attention to your work skills and experience, having certain kinds of schooling can either give you the edge you need or significantly boost your chances of landing a lucrative job. Specifically, computer and information systems professionals can look forward to quickly growing employment prospects within the next decade.
If you're considering changing careers or pursuing management opportunities, now may be the time to pursue a management information systems degree.
Future Employment Prospects Look Promising.
A survey of the Bureau of Labor Statistics' Occupational Outlook Handbook reveals impressive employment growth and salary possibilities within the field. For example, the median pay for computer and information systems managers in 2016 was $135,800 annually, according to the BLS. Moreover, new jobs are expected to increase until 2024 by about 15 percent, which is faster than the average of 7 percent for all fields.
Several factors are expected to play into the demand for more MIS managers and professionals. For one, more businesses are expected to move to digital platforms and tools, including those for payment processing, enterprise-wide management, content delivery, shipping, commerce, security and file storage. Cloud computing is also anticipated to be a huge factor in pushing up the need for more qualified specialists, particularly as many business processes shift to the cloud to take advantage of cost-effectively increased capacity.
Unsurprisingly, the retirement of older workers may open up vacancies for their job hunting counterparts. Having the skills and training necessary, as well as keeping pace with new and quickly changing innovations, is a key way in which to take advantage of these trends. The BLS notes that companies often find the prospect of hiring candidates in the field challenging, as there appears to be a lack of skilled professionals for many positions. The shortage of MIS specialists plus more open positions equals greater opportunity for those who can leverage their skills, experience and education.
Multiple Opportunities Available at Many Pay Grades.
Payscale.com disclosed a positive trend in salaries for workers possessing at least of bachelor of science in management information systems. For example, an IT project manager is usually paid around $80,000 per year. As these professionals shift upward into management roles, the pay begins to increase. IT managers earn around $124,000 per year, and higher figures are possible depending on past experience, the roles one assumes in an organization and the industry.
Women Are Needed in the Field Now More Than Ever.
In 2016, Deloitte released the results of a survey of women in the IT field. They proved to be rather eye-opening, especially in revealing the issues that women face as IT professionals. While encouraging gender diversity in the industry may be needed intensely for girls in primary and secondary school, women currently in the field also deal with challenges in fair hiring, promotion and treatment in the workplace.
If you're in this position, it might be worthwhile to consider advanced education to beef up your resume. For example, you could opt to get a masters in MIS from UAB (the University of Alabama at Birmingham). Enhancing your educational background may help you craft the perception of you as an indisputably qualified applicant. Meanwhile, Deloitte disclosed that changes must be made in the field regarding opportunity, gender-based assumptions and dealing with the "bro-gamer" culture prevalent in many IT workplaces.
More Education Is a Strategic Career Choice.
Making yourself stand out from the pack of applicants is vital if you wish to advance your career. While entry-level salaries in the MIS field are certainly impressive, and a bachelor degree does grant opportunities, a graduate degree is an optimal addition to anyone's resume. Distance education can allow you to achieve your goal without interrupting your career for full-time schooling.