by Amanda Lambert, Marketing Manager at City Breaks in Newcastle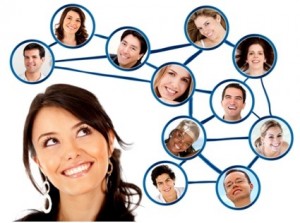 The term 'networking' can sometimes feel like a curse word, with most people dreading the idea of actively engaging in busy face-to-face events. However, in the modern age, networking can be essential – particularly for small businesses who are looking to get the 'word out' and make contacts in their industry.
Whether you're new to networking or have tried it and decided it's not for you, this article is designed to give you some top tips for finding a way to make the most out of networking and leave with an armful of leads.
1. Location, location, location.
There's a lot to be said for choosing a suitable location, and the preconceptions of your networking event will be partly made up when attendees see the venue address. You want the venue to be located centrally – as close to your target audience as possible – while still being accessible. City-centre locations can give a great first impression. From choosing a trendy new bar for a launch night to hiring a business space suited to your event, city-based events will get attendees excited. For attendees who are travelling to be at your event, a city-based location also means plenty of accommodation options. From luxury corporate apartments to accommodation for groups, those attending your networking event will be spoilt for choice.
2. Be selective with your invites.
When it comes to compiling your guest list, remember this: 50 relevant attendees are worth far more than 500 attendees selected blindly from a list. With every invitation you send out, you should have a good idea of why you would like them to attend and what you're hoping to gain from that business being at your event. It's equally as important to think about what your attendees are looking for, as if the event also offers them an opportunity, they're more likely to want to engage with your business again.
3. Be prepared.
It's surprising the sheer number of attendees at networking events that a) do not have a business card or b) forget to bring them. Business cards are relatively inexpensive in this day and age, but leaving yours behind could cost you, as you'll have nothing to hand attendees who are interested in speaking with you further. Whether it's packing your business cards or carrying out research on businesses who are likely to attend, give your event the best chance possible by prepping in advance.
4. Get social.
Networking is about connecting with others, and with a range of channels available, you needn't stop at face-to-face interaction. After you've connected with them in person, you have a chance to further those relationships online. From starting a Twitter hashtag relevant to connecting through LinkedIn, placing your business in front of attendees is a great way to keep your business at the forefront of their minds. This should be done sooner rather than later, so when you're planning for your event, schedule in time for social media activity the day after the event.
5. Don't forget to follow-up.
Without effective follow-up, your networking efforts are doomed to fail. Along with social media activity, the morning after the event should be blocked off for other forms of follow-up. Start by sifting through the small stack of business cards you acquired, send follow-up emails and call prospective leads and opportunities. You need to strike while the iron is hot – and the longer you wait between the networking event and its follow-up, the more likely somebody else is to have taken the opportunity in your absence.
The world of networking isn't as daunting as it might first seem, and by following these 5 tips, you'll be well on your way to becoming a networking guru. Admittedly, networking isn't for everyone – but, in business, it's an avenue well worth exploring.
Amanda Lambert is Marketing Manager at City Breaks in Newcastle and has worked in marketing for a number of years within the tourism and hospitality industries – spending the last 6 years helping visitors to the North East find high-quality self-catering accommodation with City Breaks in Newcastle's sister company, Cottages in Northumberland.