by Robyn Melhuish, Communications Manager at MedReps.com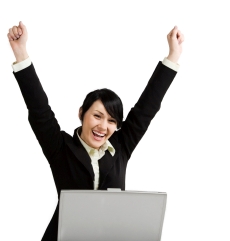 Women have been changing the workforce for decades, and even for successful women, there's still work to be done. In fact, in medical sales, women earn only 80 percent of what men do and make up only 14 percent of the highest paying job titles in the field, according to a study of 4,000 medical sales professionals conducted by my team at MedReps.
Even though men have higher salaries, women are proving to be successful in this career path. Here's some much-needed inspiration from three women who have done just that:
Don't limit yourself.
"As a woman, you get a little nervous. You question yourself. Having support of a mentor to encourage me to reflect on my success over the years and the changes I've made along the way, made me believe I can do this." – Sandy Salerno, Area Vice President of Northeast Sales at Ethicon
Having someone to guide, coach, and reinforce your career movements can give a needed confidence boost. In any career path and on any level of the game, a support system will help you excel. Think of people whose career decisions and paths you admire, and add them to your list of go-to people. It's important to have mentors with many different opinions and outlooks so you can see your options from all angles.
Share your goals.
"My biggest piece of advice for women in the field is to set their own paths by being proactive in expressing their interest in moving into medical devices. One of my successes with landing this position was to make my desires known." – Sonya Smith, Division Sales Manager at Ethicon
You only move as far as your highest goal, so don't sell yourself short by underestimating your talent. Produce your own momentum when it comes to career goals. Goals should always be shared with your manager, no matter what stage you're at in your career. Discussing goals with your manager not only shows you're driven, it also puts your name on their mind for when an opportunity becomes available.
Don't settle.
"The most important thing is to stretch yourself. Once you get comfortable, move forward. Keep growing and developing your skills." – Salerno
You're constantly challenged by managers and co-workers, but the biggest motivation comes from challenging yourself. Don't settle into the comfort of just being good at your job. Once you find your groove with one position, consider how those skills can help you step upward into a new one. Keep challenging yourself to discover just how great you can be.
Take a zigzag path.
"It was a zigzag path. I don't think it's possible or even a good idea for people to stay in one function and expect that they will rise to a leadership position. VPs in today's world need to have cross-functional experience, they are much more like general managers than single-function leads." – Caitlin Pappas, Vice President of Strategic Customer Management at Johnson and Johnson Medical Devices
It's important to move into different positions in order to keep your experience fresh and multi-functional. Being in a male-dominated field is intimidating, so once you feel comfortable in a role, it may be difficult to change into an unfamiliar position. But continue pushing yourself to keep zig zagging your way to the top.
Dig deeper.
"I truly believe I worked harder and dug deeper than I had ever done before to ensure I would succeed and, most importantly, not fail my customers or their patients." – Linda Haas, Area Vice President of Sales at DePuy Synthes
Being in a male-dominated and competitive field is going to test your limits and dedication. It could even cause you to question how important your passions are to you, but you can push through these challenges and succeed by being completely immersed in your convictions and believe in yourself.
Above all, when you're having a moment – or day, or week – when these feelings are overwhelming, look to the patients you've helped previously and will help in the future for motivation to move forward and grow in this career.
Take control of your career.
"Be in control of your career as well as your development. I think men do that automatically. Sometimes as women, we tend to wait. We want to be informed on what the next role should be. But you need to own your career." — Salerno
Throughout history, women were expected to be seen, not heard. Within the last century, women have fought to work outside of the home, and are now even aspiring to be leaders in the workplace. Use this impulse to take initiative and propel yourself forward.
Become independent by using skills you're already capable of, ones that have gotten women to where they are now, and continue the cycle of evolving by not waiting for someone else to improve the state of gender, pay, and skills gaps. It's your turn to take control of your career, so connect with mentors, take inspiration from customers, and share your highest goals to help make your next moves.
Use your natural talents.
"Women excel at relationship building and paying attention to details, in addition to being driven and always striving for success. These are key attributes to succeeding in this arena." — Smith
Women are known for their natural communication, multi-tasking, and management skills in many areas of their lives. Why not implement these skills into your career? You already possess the attributes needed to do this job and do it successfully. Make it a habit to put your natural talents into use every day in the office to build confidence.
If you're a great communicator, use this innate talent to build stronger connections with mentors, management, and customers. Just like Smith, by adding this to your already strong desire for success, you'll progress and succeed even further within this demanding field.
Support women colleagues.
"I think sometimes in other organizations you may see women compete against other women. But within J&J, we've built a forum where we support each other." — Salerno
The struggle for workplace equality is real. Because of the lack of opportunities for leadership roles, women have been forced to be competitive in the workplace. This competitive nature has built up more barriers for women to break through.
The only way to truly break these barriers is to build a bond with one another and acknowledge you're fighting the same fight. Having a support system in place with people who are going through the same issues can help you find new ways to push to the top of your career chain.
What motivates you in a male dominated workforce? Let us know in the comments below!
Robyn Melhuish is the Communications Manager at MedReps.com, a job board which gives members access to the most sought after medical sales jobs and pharmaceutical sales jobs on the Web. Connect with Robyn and MedReps.com on Facebook, Twitter, and LinkedIn.