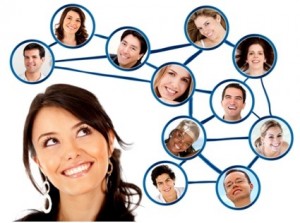 Have you ever felt like you've built a great relationship with an email address instead of a person? With the raw scale of connections at our fingertips, we can occasionally become victims of our own technological advances. When you are networking with dozens, maybe even hundreds of contacts at a time, how do you keep your networking connections meaningful?
The first step is the understanding that you want to keep up with these people, as people. But the second step is having a plan.
1. Keep Your Contacts Organized.
What good is having a lot of contacts if you don't know who to turn to when you need them? With the right organizational method, you can keep all of your contacts in one place — and in today's interconnected world, we're not just talking to more people than we ever have before, we're talking to more people we'll never actually meet. But with the right networking tools and a little organization, that doesn't have to be a barrier. After all, it's technology that made this scale of communication possible in the first place.
2. Meet People from Different Industries.
While it is certainly important to network with professionals within your industry, it is equally as important to network with people from other industries as well. You can even make your networking more productive by establishing relationships with your competitors, who can become a great source for referrals in the future if you learn how to work together.
3. Establish a Good Reputation.
Other professionals will want to network with you if they know who you are and they deem that you are valuable to their business. Focus on making a name for yourself and building up a positive reputation for yourself and your company. In this way, people will want to meet you, talk to you, help you, and stay in touch with you. You can become recognized as an expert in your field just by talking about what you do on your website and blog, adding value on topics that are important in your industry or niche, giving lectures or hosting workshops, etc.
4. Always Follow Up.
Following up with people after you meet them is another important step in building your network. Whether you meet people at networking events, workshops, or other events, if you have exchanged business cards and told each other that you will be in touch, you should make it a point to follow up. Dropping the ball will only result in a missed opportunity to connect with a potentially valuable person that could help you succeed. A simple way to follow up is by sending an email, or you could even connect on LinkedIn as a reminder to them that you will appreciate their friendship.
5. Be Consistent.
If you only network once in a while, you will not be too successful at building a large and productive network. So make it a point to regularly attend networking events, and don't be afraid of meeting new people and asking them whether they can introduce you to other pros that can help you learn and grow.