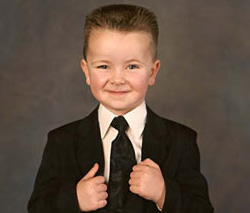 Every entrepreneur envisions the day when they can be fully self-sufficient and rely only on their own businesses for income and prosperity. Unfortunately, that's not always the case starting out, and a day job or regular career is often necessary to keep the bills paid and provide startup capital. However, not all careers are equal and some are more suited for aspiring entrepreneurs than others. The right professional fit for you will also depend on what type of business person you are and the type of personality you have.
If you're passionate about starting a business that will make a difference in the world, chances are you'd find the following four career paths to be ideal:
1. Criminal Justice.
Criminology graduates typically enjoy stable employment, above average salaries, and plenty of off-time – which is important when you're trying to launch startups in your spare time. A job in this field will have you exercising logic, reasoning, and other social and intellectual skills that can prove to be useful when developing products/services and drawing up business plans. Plus, you can earn your criminology degree online using a distance learning institution like Portland State University, thereby allowing you to focus on your startup while studying from home.
2. Social Work.
Similar to criminal justice, social work focuses on the betterment of communities, so it's a positive career path for anyone who is motivated by initiating and witnessing positive change. As an entrepreneur, it's important to have a healthy social life, and as a social worker you'll get to interact with people and help them solve problems on a regular basis. In addition, just as it's possible to get your criminal justice degree online, it's also possible to study for a degree in social work remotely.
3. Teaching.
Entrepreneurs need to stay sharp mentally, and studies have shown that the best way to strengthen your ability to retain information is to teach others. Furthermore, if you choose to specialize in a topic like business, entrepreneurship, communication, and psychology, you'll have a head start in areas of knowledge that are considered useful in any entrepreneurial skill set.
4. Marketing.
Finally, few aspects of launching a business are more important than outreach. With a degree in advertising and marketing you'll be equipped to help other companies spread brand awareness, and in doing so you'll be constantly enhancing your ability to promote your own companies as well. Aside from that, marketers tend to make great money and are usually well-connected in various industries, so you'll have the connections and funds needed to make a great entrance into any niche.
Finding a Job that Fuels Your Creativity.
In closing, it's important to choose a job that's going to inspire you to be more creative during your free time. There are many professions that will drain your energy and leave you feeling depressed and worn out. Try to steer away from those deleterious career paths and aim instead for a position that will have you interacting with likeminded people, teaching the next generation, and providing valuable services to the people of your community.