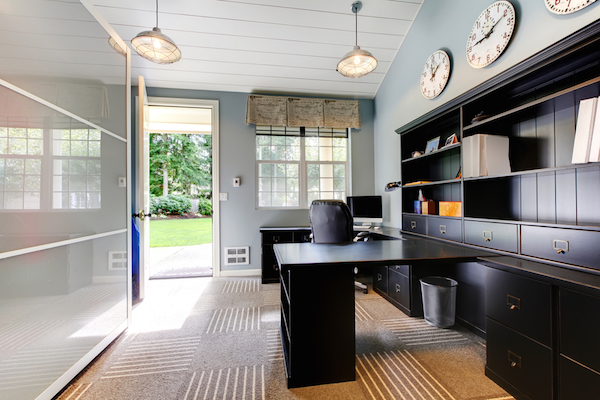 Putting together a home office can be a fun experience, but you may come across challenges or be unsure of what you need, so it can be a bit overwhelming, too.
Fortunately, there are some simple steps and considerations that can help you to choose the right furniture and make a home office that is comfortable and functional.
Begin With an Assessment.
You should start by looking your space and your needs. Take some measurements of the area. Note things like electrical outlets, heat vents, windows, and doors. Also, make sure you have any needed cable or telephone hook-ups, and note where they are located.
In addition, think about what furniture you need to accomplish in the space. Will you be working here alone? Will you have customers who need to come into your office? Do you need access to a telephone or computer? Will you have inventory that needs to be stored in the space? Will you need a place to keep files? Make notes of everything you can think of because you need to know all the details to be able to choose the right furniture.
Sketch a Design Plan.
Now that you know what you need and have a good idea of the space, you can draw out a design of how you would furnish the office. This doesn't have to be pretty, but it should be detailed. You may want to look at furniture as you decide on your design to help you get an idea of sizes and style options. Include in your plan, the size, and type of furniture. You don't have to decide on colors just yet. This is basically an outline of what you will want the office to look like with a good plan for what furniture you need to set up your home office.
In addition, don't forget decorative touches. At the very least, you'll need some type of window treatment if there is a window in your space. You may also want to add a plant or some artwork. If you have hardwood floors, you may also need a rug. Make sure to outline every detail no matter how small it seems because you will need this information for the next step.
Set Your Budget.
After you get a general idea of what you are working with and what you need, set your budget. Make sure it is adequate enough to meet all your needs. You should have a basic idea of what it will cost for certain pieces of office furniture that you need. It is a good idea to make a detailed list of each item and how much you are willing to spend on each piece. Be careful, though, and don't set your budget too high. You have to be realistic.
Choose Your Furniture.
Once you have completed all the assessments and gathered all the details, you can now begin the fun part—shopping! It can help to decide on a style first. This will just narrow down your choices and make it easier to make the final decisions. There are three main styles of office furniture: traditional, contemporary and transitional. Traditional styles are usually wood and have designs that have been around for decades. Contemporary styles are more artistic and can be made of any material. Transitional styles are a mix of the two other styles but usually are designed the most for comfort.
You also want to stick with the measurements that you came up with when making your design plan, so have those on hand as you shop. Avoid the urge to buy something that will not fit nicely in your space because it is too big. This will only mess up your whole design and cause issues. You want to make sure that a piece will fit properly and still allow you to get all the other pieces that you had planned to buy.
Choosing the right furniture for your home office is a big decision. You will be spending quite a bit of money to set it up, so you have to plan carefully. You will be using this furniture every day to work, so it has to be comfortable and functional. If you take your time with the process by planning before you shop and then shopping smartly, you should be able to end up with a furnished office that will work beautifully for all your needs.