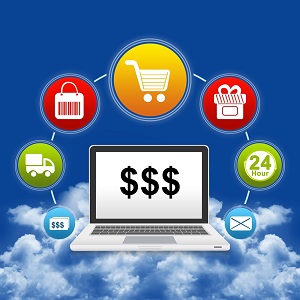 With the holiday shopping season hitting full swing in late November with Black Friday and Cyber Monday sales, retailers are increasingly turning to new technologies to keep pace with the demands of today's shoppers.
Last year, the two days known for their extreme deals and bargains – Black Friday and Cyber Monday – brought in more than $5.8 billion in sales, taking the two top spots for most sales in a day. What was particularly surprising was the increase in sales for Cyber Monday, which was up 16 percent from 2015.
Wanting to cash in on these digital trends, a number of companies implemented the latest personalization, visual search and ecommerce tools this year to help boost their share of sales.
Personalization.
One of the most prevalent tools digital retailers are using is personalization. Using Artificial Intelligence technologies, personalization tools use filters and algorithms to collect unique data about you allowing for a more tailored and unique shopping experience. Unlike the collaborative filters already in use in the digital marketplace, AI creates recommendations based on a seamless customer experience across all of those channels.
Previous collaborative filters that didn't utilize AI based their results on most viewed history, best sellers, location, and other general parameters. However, they were severely limited because they could only gather data from one channel, a problem AI personalization has solved with its multi-channel approach.
"Personalization is a multi-dimensional problem," says Akash Bhatia, CEO of Infinite Analytics. "A lot of information gathered on shopping habits is very subtle, requiring a lot of data to be analyzed for proper personalization. With deep learning algorithms, online retailers can continuously learn every new signal as it gets uncovered to showcase personalized products better."
Visual Search.
Visual search is also reshaping the way shoppers find merchandise. Hinging on our love of photography and visual stimulation, visual search tools enable shoppers to find exactly what they are looking for more quickly and efficiently.
Already adopted by large retailers like Neiman Marcus, Nordstrom, J.C. Penney, Urban Outfitters, and Home Depot, all companies that have integrated visual search tools into their mobile apps, smaller niche retailers are also implementing visual search into their digital model.
This integration is being facilitated by tech firms like Slyce that offer visual search tools customized to a specific company's goals and needs. Slyce's Universal Scanner utilizes the latest and most accurate image recognition software to scan, recognize and search any real world image, barcode, QR code and coupon. Users then immediately receive a list of exact matches as well as similar results based on the image or code searched.
Slyce founder Cameron Chell describes visual search as giving a 'customer's camera a buy button.'
"Visual search is the future of retail," says Cameron Chell. "With visual social media apps like Instagram and Snapchat becoming more popular, we are seeing the growing potential that visual search hold. It's easier, faster and more accurate than trying to describe a product through text."
Mobile Payments.
By the end of this year, it is estimated that there will be more than 4.8 billion mobile phone users around the world. With more people than ever carrying a mobile phone, it comes as little surprise that there has been steady growth in the mobile payment industry.
Companies like Apple, Samsung and even Google have all released mobile payment tools and apps over the last 24 months and the growth is expected to continue well into 2020. Whether it's digital currency, mobile apps or virtual banking, there is a mobile payment option for everyone and there are a number of new technologies in the pipeline also looking to revolutionize how people pay for goods.
"When it comes to "pay" as a feature, Apple, Android and Samsung are just the tip of the iceberg," notes tech reporter John Rampton. "Wearable tech will be next. Don't think that mobile payments will be limited to your smartphone or tablet."
According to Rampant, there is also room in the mobile payment sector for a number of tech unicorns to emerge. He points to a summer report in which 39 percent of all American mobile users reported making a mobile payment in 2015. "This is up from 14 percent in 2014 and by my estimations will in the 70 percent range by 2017."