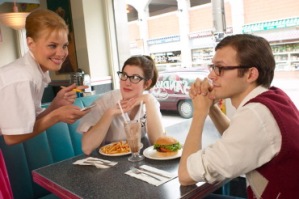 These days, many businesses function at a distance from the people that they aim to serve. Thanks to the internet, it's possible for a business to find success without ever meeting its customers. Can this ever be truly sustainable, though? And even if it can be, is it the way you want to run a business? Many people prefer to make their companies part of the community and build one to one relationships with customers. This can be a great way of creating a business with strong roots.
Here are some startup ideas that allow you to do that:
Bars and Restaurants.
Bars and restaurants are social areas that people come to when they want to have a good time. So, the people who walk through the doors of your premises need to have an experience. Maybe your business will offer the perfect setting, a great service or incredible food. Maybe it will do all three of those things and more. Of course, running a restaurant isn't all fun and games. You'll have to deal with problems in the kitchen, source the right drinks and find wholesale beef suppliers you can trust. But catering to the needs of the customer will still be what's most important.
Plumbing and Electrics.
When something goes wrong in the home, most people call in the experts. The most common home problems relate to the plumbing and electrics in the home. Calling out a company to deal with these problems means letting a stranger or a group of strangers into your home. So, it's important to feel at ease immediately. This can only happen if the people from the company are friendly and trustworthy. It gives people like you the chance to start a business that people keep coming back to whenever they have a problem in the home.
Beauty and Cosmetic Services.
Offering cosmetic or beauty services is something that can only ever be done in person. And requires a certain level of trust on behalf of the customer. They are trusting you to make them look great and protect them at the same time. Some of those treatments can be dangerous when carried out by someone who doesn't know what they are doing. These businesses can build up loyal customer bases if they do what they do well. People are always in need of companies like this, so build up trust and win them over.
Local Non-Profit Organisations.
Sometimes, it's not all about making money. You might want to start a non-profit organisation that can do good things for the local people where you live. This is the kind of venture that is sure to have a presence in the community because its sole aim is to help that community. It could be about offering young people a safe place to get together and get off the streets. Or it could offer care and support to people in the community who are most isolated or vulnerable. Doing good things like that can help to win people over and have them take an interest in what you're doing.