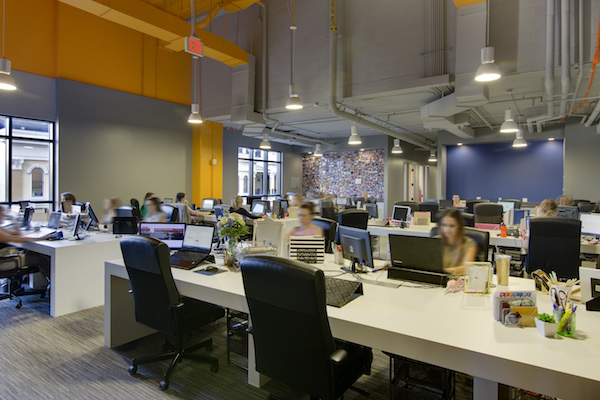 by Catriona Harris, CEO of Uproar PR
Can the number of windows in your office be affecting employee morale? Does a second computer monitor have a direct connection to an employee's overall happiness? Over the years, many studies have demonstrated the significant impact that office environment can have on employee productivity. As Millennials inundate the workforce, business leaders must begin to consider office space as a physical representation of their company culture in order to attract top talent — and keep that talent engaged and productive.
Considering that your employees spend more of their waking hours at work than they do at home, the environment that you provide for them makes all the difference. The good news is that cultivating company culture doesn't necessarily require building a brand new office.
Here are a few simple tips you can use to improve your existing office space in order to increase employee productivity: 
Give it a name.
If your office has a conference room or smaller meeting rooms for breakout brainstorming sessions, why not name each space something fun that represents what your company stands for? Better yet, make it a friendly competition amongst your staff to see who can come up with the best name for each room. By giving employees the opportunity to help name each area, your employees will feel a sense of pride and ownership over the space that they might not have before. Plus, the creative names will spark conversations with clients and potential new hires, demonstrating your company's culture right off the bat. 
Build a (culture) wall.
Generic paintings or photo canvases may be nice to look at for a few minutes, but they aren't necessarily the best visual representation of your company—nor will they inspire employees to do their best work. Instead, build a culture wall by printing off photos of your staff having fun at work and out-of-office events like holiday parties and team building activities. Seeing their photos displayed on your wall helps remind employees that they're all a part of a supportive team, especially if you give them the opportunity to submit photos that they've taken as well. Be sure to routinely update your culture wall with new photos of current staff members in order to keep it from feeling stagnant.
Offer a new perspective. 
Sometimes inspiration comes with a simple change of scenery. This is especially true for Millennials who are used to a fast-paced lifestyle and may not do their best work sitting at a desk for eight hours each day. If space permits, try providing multiple places to work like standing desks where employees can stretch their legs or funky chairs near a window with a great view. Does your office have a balcony or patio area? Take advantage of this outdoor space by setting up patio furniture so employees can take their laptops outside and work in the fresh air. If you don't have an area like this, bring the outdoors in by placing indoor potted plants throughout your office to breathe some new life into your space.
Bring the snacks.
Allocate a small percentage of your budget to stocking your office kitchen with free snacks and beverages like coffee, juice and soda. It may sound unnecessary, but it can greatly reduce the amount of time employees take to run out to Starbucks for a coffee or to grab a granola bar from the bodega down the street. If it fits in with your culture, offer beer and wine after lunch on Fridays as well to boost employee morale as the team finishes out their workweek. The simple benefit will make employees feel appreciated, which in turn boosts their motivation to do their best work.
Borrow good ideas.
Whether you're making easy changes like the ideas above or building a completely new office, don't be afraid to borrow good ideas from companies that are doing it right. When my partner and I were planning our company's new office space, we were inspired by the clean and modern look of the long maple desks at the Apple Store. We mirrored the feel and designed similar desks for our own office, creating an open floor plan that encourages conversation and collaboration. See something you like when visiting another company's space? Take that idea and make it your own.
In today's workforce, company culture is becoming increasingly important as employers look to hire and keep the best talent. In order to foster a great culture, you must invest in your company's physical infrastructure. By ensuring that your physical space is a visual representation of your culture, employees will continue to be inspired and productive as they enjoy the work environment you've created for them.
As CEO of Uproar PR, Catriona Harris develops and manages strategic campaigns that enhance her clients' messaging and increase their exposure in the marketplace. In 2015, Uproar was named Top Company Culture by Entrepreneur Magazine. You can reach Catriona on Twitter at @CatrionaHarris.