by Jason Kruger, President at Signature Analytics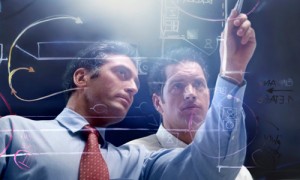 Owners of small- and medium-sized businesses can sometimes find themselves in a money-spending (or saving) dilemma. What areas of the business should you invest the most in? Where should you be cutting costs in order to divert more resources towards more useful departments or products? With so many options on the table, and such a high importance on proper investing, it's easy to become overwhelmed. This can lead to some regrettable decisions, and can even drag a company right under — especially if it's an SMB. Instead, you need to be strategic with your resources, and have a full picture of what areas need the most attention for your business to succeed.
It's important to know where to spend and where to hold back on spending as a business owner, and you don't want to simply slash costs across the board — or else assign every department with the same budget. Here's some advice from the experts on the best business investments:
Skilled Marketing.
It should go without saying, but a business (especially one that isn't a huge corporate entity) needs marketing in order to be known. This means you're going to need to allocate resources towards scoping a marketing plan, including ad campaigns, media buys, signage, and anything else you might need to get the word out about your SMB.
In fact, ongoing marketing support is so important that an article from Business Insider named "steady marketing" as one of their top small business investments. The piece quotes the Small Business Pulse survey from The Alternative Board as revealing that 20% of small business owners admitted that, if they were to do it all again, they would put more money towards marketing, advertising, and PR. So don't wait until you're struggling to catch up with your competition — take a look at agencies you could hire to handle your SMB's marketing, or else look for a few good in-house hires to bring your company's marketing plan up to snuff.
Online Presence.
Having a solid digital presence goes hand in hand with the marketing efforts mentioned above. In a day and age when almost everything is being done online, you could be missing out on a significant chunk of potential revenue if you're not digitizing your business. Not only will pre-existing customers be looking for your website or social media presence, but you could be missing the chance to attract new and curious potential customers as well. Plus, it makes you look like a legitimate, professional business — according to a blog post at the U.S. News Money Blog, "When visitors navigate to your site, it takes just seconds for them to decide whether or not you're legit." Those few seconds can make the difference between a sale and a loss.
That's why it's vital to invest in building an online presence for your SMB, and that includes a website as well as a few pertinent social networks to spread the word online. Affording a flashy website and a skilled team to run it can cost your business a handsome chunk of money, so do some research and find cost-effective solutions for web hosting. It's also worth taking a look at what demographics and target audience you're playing towards, and only signing up for the necessities when it comes to digital presence. For example, you're probably not going to need a Tumblr or a Snapchat if your business is marketing a product towards senior citizens. Know your audience, and keep your efforts pared down to the essentials – but make sure you are investing in an effort.
Outsourcing or Administrative Help.
A truly wise investment for any small or medium business is other people — particularly when they're helping take things off your plate so you can get more work done. The U.S. Money News blog post explains that once your business begins to scale up, you're likely going to have less time to work on the smaller things because you'll need to focus on the bigger picture. This is the best time to invest in hiring administrative help to take care of the day-to-day tasks, or to outsource projects if you're finding you don't have the time.
The blog post also suggests clocking your time for a few weeks to see what tasks are using up the most time (it's typically things like answering emails, customer service, and scheduling), then look into making some hires to handle those tasks for you. It might be a struggle at first, especially if this is your own business and you're reluctant to delegate tasks to anyone else, but putting budget towards skilled help can be a lifesaver for your company in the long run.
Quality Financial Support.
Marketing efforts and digital presence might not mean a thing if a small- or medium-sized business can't stay afloat financially. It's imperative that you invest in a good accounting and finance team in order to keep your revenue and costs in order, particularly if you're not as quick at filing and keeping records of your spending.
Additionally, having an accountant on hand is just as important year-round as it is during tax season. Says Business Insider: "A good accountant can find extra cash in many ways: at tax time, on payroll, during financial planning, and more, because they simply know more about the subject than you do. These professionals are up to date on all of the changes within the financial industry that can affect their clients — all of which helps you save and earn money." This also means that you don't necessarily need to be an accounting wizard — you just need to have one taking care of your financial affairs.
A good accountant can provide transparency and reliability when it comes to your SMB's financial information, and that information can then be used to make the best strategic decisions for your business. When so much is riding on accurate financial results, you don't want to leave it up to anyone else.
Be Investment-Savvy.
Cost spending and cost cutting may be complete opposites, but when it comes to SMBs, they're also two sides of a very important coin. You don't want to hold resources back from areas that need it, and you don't want to sink too much money into projects or departments that won't be useful. That's why it's important that you figure out where you need to invest in your business, and some of the best areas to start are marketing, digital, admin, and finance. The key is that you know your company's overall financial situation; that can help inform any major investment decisions that you make — just be sure they're the right ones for you.
Jason Kruger has more than 16 years of accounting and finance experience in both public and private industry accounting. Since 2008, Jason has acted as the CFO for many of Signature Analytics' clients, providing them with the financial analysis they need to grow their business and make more data driven decisions. He has direct experience with many complex accounting and financial issues within a variety of companies and industries, including software, technology, biotech, manufacturing, food/beverage, apparel, construction, and advertising.