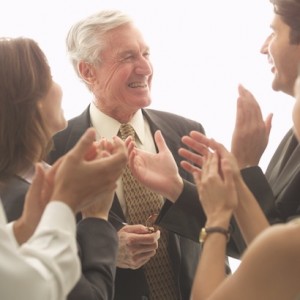 Giving presents to employees is a fun endeavor, whether the occasion is a holiday party, an employment milestone, or a promotion celebration. Company owners can decide whether to give a gift that's handy for use in the office or one that's meant to be enjoyed at home. Either way, there are hundreds of items that make thoughtful, decorative, or functional employee gifts.
For the Office.
Gifts that help make work life easier are always appreciated. Consider some of these options when a gift-giving occasion comes around:
Desk calendar: Stylish ornaments that show the day of the week, the day number and the month make useful and lovely decorations on any employee's desk.
Note paper with holder: Nothing's worse than needing a small piece of paper for a quick note and not being able to find one at hand. A heavy metal box that holds a string of adhesive notes is perfect for just such a circumstance.
Living plant: Small touches of green on the corner of a desk can bring warmth to an office or cubicle. Unusual succulents are interesting to look at while also being compact and easy to keep alive.
For the Home.
If work-related gifts seem too impersonal, there are plenty of ideas for helpful items that can be used at home. Check out this collection of gift ideas:
Barbecue sets: Make your grillmaster employee's life easier with a kit that has its own carrying case. It can include a spatula, sauce brush, grill cleaner and kabob skewers, among other helpful tools.
Cork globe: Have any employee who travels a lot for work? A decorative cork globe can be marked with all the places he or she was visited for work or for pleasure.
Coaster set: There are lots of options in this category. You can find anything from printed coasters that speak to the employee's hobby to marble coasters that can be kept in the fridge and then used to keep drinks cold.
Food and Drink.
Treats and drinks are almost guaranteed to be a hit with recipients. If you know something about the employee's preferences, that can aid in the gift-selection process. If not, these options are always appreciated:
Wine: Splurge on a bottle that's a level up from what you'd find in a grocery store. You could include a corkscrew or bottle stopper as part of a wine package.
French macarons: These classic sandwich cookies are elegant, colorful, and tasty, making them a true indulgence that an employee might not buy for himself or herself but would enjoy as a gift.
Food-of-the-month subscription: Keep the delight coming every month with a membership to a gourmet food club. The featured food could be anything from steaks to pies to cheese, but it will be greatly appreciated no matter which you choose.
Employees are important for any company, and it is important to show you care about them and their contributions to the business. Any of these gifts would be a sure sign that you appreciate their work and hope it continues long in the future.