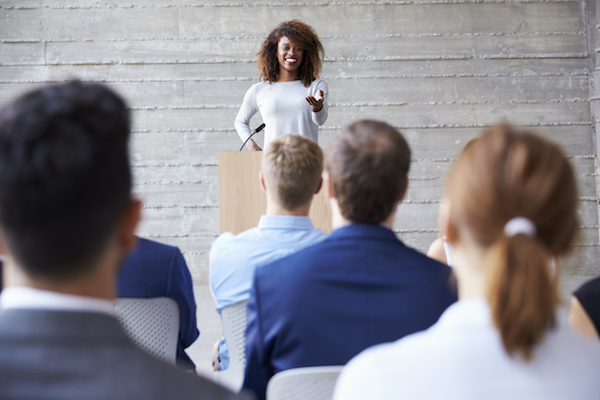 By Rob Cahill, Co-Founder & CEO at Jhana
I often think that my first few months as a new manager were some of the most nerve racking of my career. What if I messed up? What if my team hated me? What if my boss didn't trust me? It can be a lot to take in.
Which is why, after talking with dozens of leaders and new managers, I wanted to share a few tips managers (and their HR teams) can follow to ensure they aren't starring in real-life versions of "Horrible Bosses" or "The Devil Wears Prada":
1. Talk to your team.
As a new manager on a mission to prove your value, you're flying in a dozen directions at once. There's just so much to do. When you start to feel overwhelmed (and you will), remember that your top priority is to help your team succeed, and the most effective way is to schedule weekly 1-on-1 meetings with every direct report. Plan for at least 30 minutes, and, no matter what, don't cancel.
How HR can help. HR should guide new leaders by encouraging them to schedule their first six months of 1-on-1s right away. HR can smooth the way by providing sample 1-on-1 meeting questions and guidelines for both managers and direct reports.
2. Talk to your boss.
As hectic as your new role is, it's likely that your boss is even busier. Make sure you're helping him or her understand what you need to do your job well. Establish an open line of communication (remember that 1-on-1s go both ways!). Learn everything you can about your boss's goals, priorities, values and responsibilities and how they align with and affect your team.
How HR can help: HR should encourage new managers to get onto their bosses' calendars early and often. Since most leadership teams put together strategy docs annually and/or quarterly, HR should ensure that new managers get copies and should encourage new managers to ask their bosses to walk through anything that may be unfamiliar to them.
3. Give constant feedback.
One of the most valuable things you can do for your direct reports is provide them with regular feedback. Employees want to know if they're doing well (or poorly), and it's your job to tell them. Most, but not all, of your feedback should be positive. No one likes the manager who only notices when things go wrong!
How HR can help: HR should remind new managers that their teams crave feedback by not just telling new managers that it's important but teaching them how to deliver it well.
4. Delegate, delegate, delegate.
As a new manager, it can be a struggle to give up the control you had as an individual contributor. But your role is different now. Effective managers learn to delegate well. Before delegating a new task, outline expectations and set clear, specific deadlines. Then monitor progress, but don't micromanage: step in only if asked or if it's obvious something is truly going sideways. 
How HR can help: The challenges associated with ceding control are universal. HR should help new managers understand that delegation is neither a luxury nor a sign of disengagement—it's key to being effective.
5. Have the "Where do you see yourself?" talk.
Don't shy away from career conversations. Ask your direct reports regularly about their career plans and brainstorm ways to help them achieve their goals. The best managers coach rather than advise. Ask open-ended questions that help team members find answers on their own.
How HR can help: Not everyone wants to go into management. HR should educate managers on all available career trajectories and encourage them to work with each direct report to design and implement a personal career development plan.
6. Be open to feedback.
You're already giving your team feedback — make sure you're asking for some in return. Your team, your manager and your peers are the best mirror you have of your progress and growth areas.
How HR can help: New managers may believe they can simply wait around for others to provide feedback. Big mistake. HR should encourage managers to ask for feedback proactively; otherwise, it might never come — or, worse, come too late.
7. Don't run from change.
When change inevitably occurs, don't cast blame or try to sugarcoat hard truths. Be open and honest with your team, and communicate information about the change clearly, directly and often. If you have questions, check with HR or your own manager first. 
How HR can help: HR should encourage managers to overcommunicate with their teams, while helping them understand exactly what they can and cannot share.
8. Embrace tough conversations.
As a manager, it's your responsibility to initiate tough conversations when needed, whether they're with your boss, your direct reports or your peers. Ignoring an issue will only make it worse.
How HR can help: Confrontation is hard. HR should help new managers become more comfortable by offering role-play opportunities and practice. For more serious issues, HR should educate managers on legal obligations and restrictions.
9. Seek out diversity.
Groupthink is the enemy of innovation, so actively seek to hire a diverse team. Don't rely on your network alone, or you'll likely wind up with a team that looks and thinks just like you. Explore a range of channels when sourcing prospective candidates. Sometimes the best people show up in unexpected places.
How HR Can Help: HR should train managers on proper interview etiquette and encourage them to actively participate in the hiring process rather than wait for HR to provide candidates.
10. Leverage your peers.
The best managers often have the biggest networks. Strong peer relationships outside of your immediate team can provide unparalleled insight, knowledge and resources to help you and your team succeed.
How HR can help: HR should help facilitate peer learning with monthly manager meet-ups that include a mix of departments, functions and experience levels and then should invite managers to share both challenges and successes to help good ideas catch on broadly.
Being an effective manager is a daily practice, and being a new manager is one of the toughest, most terrifying career moves you'll make. It isn't for everyone, and it certainly isn't for the faint of heart.
Don't get me wrong — being a manager is also incredibly rewarding. It's one of the most impactful careers you can have, as anyone who's known a great manager (or a terrible one) can attest. It's not easy, but it's worth it.
Rob founded Jhana in 2011 after personally experiencing how proper management can make or break retention and help reach company goals. Rob's mission is to provide effective and relatable management training that is available around the clock. Today, Jhana's clients have grown to many Fortune 1000's including AOL, Orbitz, CARFAX, Career Builder, Groupon and more. Rob was one of the founding team members and three-year captain of Revolver Ultimate, the men's Ultimate Frisbee team that has won three World Championships and three National Championships.