by Jacob Shriar, Director of Content, Officevibe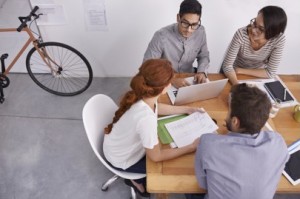 Cultivating and maintaining a flourishing company culture boils down to one thing, employee engagement. You must take a look at your business and answer a challenging question – are your staff members committed to the company and their work?
1. Know Who You Are and Why You Exist.
If you haven't already, determine your company's mission, vision statement and business values. Your "Why" is what drives your company to reach new heights. It's crucial to communicate them very early and as frequently as possible to make sure your whole team is on board with them. The staff you hire also need to fit with the company's values and goals. Eventually, they'll become a great spokesperson for the organization.
2. Don't Just Talk About Culture – Live It!
If your intention is to build a remarkable company culture you first need to realize that culture is not just a list of ethics, words on a coffee cup, a poster in your local conference room, free meals, or various perks.
At the roots, culture is the people. It begins and ends with their actions and behaviors.
As a leader, your behavior sets the tenor for their behaviors. As a leader you want to be emulated throughout the organization. Employees look to what you do and what you don't. Your actions become benchmarks that your employees use to drive their own successes and motivation.
For instance, if you are always late for meetings, I warrant that your staff members even the ones who presently attend meetings on time will begin showing up late to meetings. As a manager, the flare shines even brighter on you, and you must not just talk about culture. You must live it in every way. Your teams will always recall what you say, but they will certainly pay interest on your actions
3. Don't be the squeaky wheel. 
Once you realize that your team members are looking up to you, it's time to take a good look at the mirror and reflect on how engaged you are at work. This is one of the key necessities on how to be a good leader. To cultivate a motivated team, you must be engaged and dedicated to the organization. It is very tough to build loyalty within your teams when you're absent.
Bear in mind that you were an employee before you became a manager. Your capability to cultivate commitment in others starts with your own motivation.
4. Make It Personal.
Cultivating a trusted connection with your staff is one of the key constituents to building a strong engagement. It is vital for each manager in a company to understand their team members. What they want to achieve, who they are and what their passions are. When your staff feel important, they are more apt to value the organization and their own roles.
A great way to build such a connection is by establishing weekly one-on-one meetings with your staff members. Let them take the wheel of the agenda for such meetings, but ensure you discuss how things ought to be, not just what they are doing.
5. Be selective.
We all want to employ the brightest and the best employees in our respective industries. However, skill sets can't be the only consideration in a hire. A highly talented and super skilled candidate might not be the right fit for your corporate culture.
Great managers understand the need to be selective. Recruiting the right candidates at the right time means making sure each hire's personality and skills align with the values that the company.
The bottom line is, if you want to advance engagement, you need to nurture and recruit the right candidates.
Jacob Shriar is the Director of Content at Officevibe, the number one tool to create greater workplaces. He's on a mission to make everyone happier, healthier, and more productive at work, and spreads knowledge through blogs, eBooks, guides, and other helpful resources.