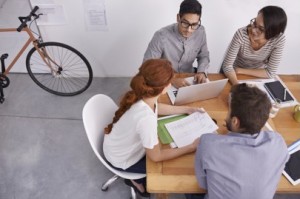 If you're planning to exhibit your products/services at an exhibition, it's very important to know how to brief your design team. Key performance indicators (KPIs) play a huge part in demonstrating the effectiveness of companies that want to achieve key business objectives. It's therefore essential that a design team knows what you want to achieve at the exhibition – which can be aided from the design of your stand. The secret is to not get too focused on design details in your brief. Instead, you should have an open mind and keep your focus on what your goals and objectives of exhibiting at the show are.
When you focus on your objectives, it will ensure that you are concentrating on your key messaging which ultimately is more powerful than overcomplicating your stand with mixed messaging.
You should look to get in touch with exhibition experts as soon as you have the date, time and venue of the next exhibition you intend showing at. Hiring a stand is a great option especially if you:-
Don't exhibit your products and services very often
Wish to test exhibition stands before making a purchase
Want to exhibit at many locations in quick succession
Need to change the exhibition stand design to accommodate new products or service lines
Consult professional designers.
It's recommended to consult professional stand designers well in advance of the actual exhibition date. Specialists can help you to plan the way your particular exhibition stand will look and feel on the day and with what you hope to achieve from the show.
You should aim to maximise your stand and staff to:-
Pull in visitors
Improve your data capture by using digital engagement tools
Communicate your brand and message
Give advice and guidance
Turn your leads into sales.
You can create maximum impact by talking to design teams who can help you with archways, frameworks, counters, plinths, lighting and much more. Consultants have many years of experience in this field and are the best people to get in touch with.
Award-winning designers.
Exhibition stand designers are passionate about what they do. They take into account your specific objectives and creatively communicate your message via your exhibition stand. Professional designers will also make sure your products or information about your services are aesthetically pleasing and ergonomical.
Designers like to put their creativity to the test and will do their utmost to customise your requirements to compliment your brand. Their objective is to create a bespoke exhibition stand that not only meets your budget but also exceeds your expectations.
If you need some inspiration, check out exhibition stand designers' portfolios to get an idea of their previous work.