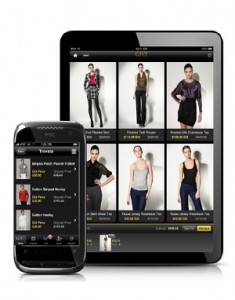 Growing numbers of businesses are deciding to build a mobile app to boost their online presence but it's important to not just weigh in but consider carefully the reasons for doing so before starting.
This means the business must be clear from the beginning what their objectives for the mobile app will be and how the mobile app marketing strategy will be implemented to ensure success.
There are many reasons for harnessing the potential power from a mobile app and the main one is boosting customer engagement.
A mobile app enables a business to engage with its customers in real time and utilise their user's profile information – a successful app will essentially turn an engaged customer into one who generates revenue.
Alongside this aim to generate more customers and profits, the app is also an excellent platform to boost customer support and service.
Mobile app marketing.
The mobile app marketing campaign will make it much simpler for a business to connect with their customers and also for their customers to connect with them; the app will effectively make their life easier so they can enjoy a business's services or products.
One way of doing this is to successfully use a mobile app to promote a business, the most popular way of trying to generate cash is to offer a customer a coupon for the firm's offering.
A mobile app can also offer location-based incentives since the business will know when a potential customer or client is in the neighbourhood.
So rather than having a general incentive mail-out in the hope that a small percentage of customers will engage with the business, a mobile app will help to drill down and engage with the customer who is in striking distance of the business itself to make a sale.
Offering a coupon gives them a reason to visit the business and if they are in the neighbourhood it's not a big problem for them to come along to cash-in their coupon.
Mobile app marketing is increasingly essential.
For any business that is selling services or products online, a mobile app marketing campaign is an increasingly essential part of their promotional strategy.
The world is becoming ever more mobile, growing numbers of people are utilising their smartphones to buy products online which means that online retailers, particularly, must engage with their clients more effectively by targeting their use of mobile phones.
Though that's not to say that a service company cannot also take a slice of the potential action by tailoring an app for their own needs.
For those businesses which are considering creating a mobile phone app, it's also a wise choice to find a specialist app marketing firm that can make it the success it deserves to be.