by Mark Hastings, CEO of Hastings Humans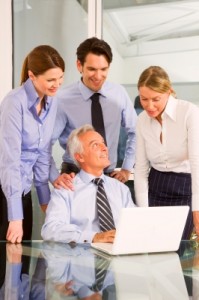 In 1948, my mother Ann started what would become Hastings Humans from the kitchen of her family home, piling phones onto the kitchen table—and eventually the chairs, the floors, and the rest of the house. We've been successfully providing 24/7 call center services ever since. Last year, after 67 years in business, we averaged over 1,500 calls a day.
We've stayed a family-run business through and through. What we do, and why we do it, hasn't changed since 1948.
Running a business is tough, but taking over a family business has its own unique set of challenges. From emptying the waste bins in the breakroom as a teenager, to becoming the company president today, here are a few things I learned along the way.
​Everyone Needs a Specific Duty​.
Hiring a cousin simply because he or she is family isn't going to cut it. Everyone in your family business has to specialize in a role: in charge of finances, product design, etc. When I started working full-time at Hastings, for example, I handled technical operations while my brother Scott led the marketing department. My father was in charge of paging—my mother Ann led overall operations.
What this shows is that in a family business, just like any business, every member must be held accountable. Without a task to answer to, one runs the likelihood of a member feeling entitled. After all, being related is like a job you can't be fired from. Working at the family business should not be the same.
Treat Your Employees Like Family.
When it comes time to expand beyond the family tree, it's vital to make outside employees feel like they're part of it.
In smaller companies, it can be difficult to provide upward mobility when the original members have been there from the beginning. From my experience, it's important to hire wisely, and instill trust in who you hire. Cultivating an environment of trustworthiness means you'll feel more comfortable delegating important tasks and they'll feel like they're part of the family.
Plan ahead to transition power​.
When an older generation is ready to retire, the new generation is going to need the experience and aptitude to fill the shoes of the outgoing class.
That takes a long time to instill. A wise leader recognizes talent, experience and aptitude many years before he passes on the reins. The outgoing generation must properly prep its successors and be aware of their capabilities.
Often you won't know your kids are interested in the business until they are already adults. They may develop a passion for the industry at a later age, but they won't be successful without that passion. They may not be capable, or simply not interested. Then, you'll have to look beyond the family.
As far as ownership, you can talk to thousands of financial planners on how to do it. You can gift stock to your family members over a number of years. Or you can make a decision to sell the company and find the right fit with outside investors.
Until my sophomore year of college, I didn't think I would be as big a part of the family business. Which goes to show: don't expect your scion to know at an early age whether they'll join the business.
​Pay attention to changes.
When I took over, the business used switchboards and everything was hardwired – something Alexander Graham Bell might recognize. I saw the changes blowing in the wind, especially in the advent of digital in the 1980s, and made the investment in technological upgrades. I saw some companies hold out for as long as they could. Others wound up going out of business. But if we hadn't, we would have fallen by the wayside.
We have a long history of following the most meaningful technological trends. We upgraded to switchboards in 1957, installed Austin's first computerized answering system in 1979, and two years later added Austin's first voicemail system. In the 1980s we upgraded to state-of-the-art computers. We kept up with the fervent pace of technology by adding communications capabilities that kept up with the dot-com boom. (You can watch our promotional video from the 1990s, right from our website.)
Over our history we've also updated our name: in the 1960s we changed from Austin Answering Service to Hastings Telephone Answering Service, to reflect our family-run authenticity, and then to Hastings Humans in 2014, to reinforce our old-school customer concern.
Technology, office space, and trends may have changed over the past six or seven decades, but genuine human connection never goes out of style.
Mark Hastings is the CEO of Hastings Humans, an Austin, TX based 24/7 call center that's been providing around-the-clock customer service for businesses of all size since 1948.