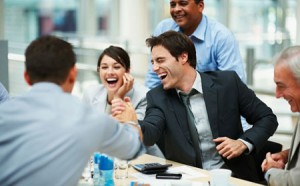 Even if your employees come in on time and work for their contracted hours, you might notice gaps in output. Not meeting your quotas but feeling that everything's fine in your business can be confusing and frustrating.
The issue could be with your employees' productivity. Target this as a weakness, and you may well notice your problems diminishing.
Here are three ways to boost productivity at your business:
My first tip would be to relax your internet restrictions. I know, this might sound a little counter-productive. I'm not suggesting you let all of your employees mess around on YouTube all day. There are dozens of tasks in day-to-day business which could be sped up through unrestricted internet use. For example, a number of social media platforms are becoming a larger and larger part of business. In 2016, social media marketing is pretty much a necessity for any business's success. Things like Facebook and Twitter can be used to communicate with customers and monitor your competitors. Remember that a lazy employee is a lazy employee. Whether they have access to the internet or not, their productivity will remain low. Loosen your restrictions, and you'll notice all kinds of work being turned in faster.
Next, consider some outside help. You might want to avoid this to save money and keep up a sense of calm. However, if your company's productivity is going downhill, it's better to ask for help sooner rather than later. These days, there are countless corporate training services out there. These firms are made up of experienced HR professionals. Many usually tailor their services to your specific circumstances. When these guys have a look at your figures, they may point out weaknesses that you'd never even considered! After having a thorough look at all aspects of your business, they'll know exactly what to target in their training programs. Soon enough, you'll have a professionally drafted training program to help productivity.
Once you've made these fundamental changes, don't let up! You need to be monitoring your employee productivity constantly, and jumping on any holes the minute you see them. This area of HR can often go hand in hand with sales. If you want to increase sales for your company, you need to understand the root of all current sales. Similarly, if you monitor and study your most productive employees, you'll be able to pin down the factors which make for a good worker. This has long-term benefits too. If you move offices, or undergo some other big change, you'll have results to look at. You'll be able to see which changes improve output and which ones harm it, and then act accordingly. Once you have a good system in place, any firing and hiring will become much more informed.
With these changes, you'll be able to improve the productivity of your entire workforce. Some business owners seem to forget that all companies are made up of people. When all of those people are motivated and active, every last branch can show considerable improvement!