by Emma Rosser of Publicize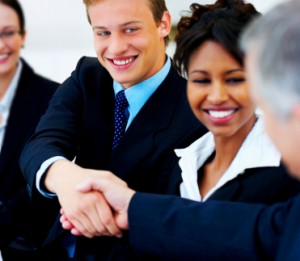 87% of top level executives network 2-3 times every week. 90% increase their business opportunities through taking part in these events, according to National Networking Statistics.
Whilst communications today rely heavily on technology, nothing beat good old fashioned face-to-face networking. Whether you jump in guerrilla style, or equipped with a team of marketing pros your experience will undoubtedly rely on the same fundamental core strategies.
In 2016 entrepreneurs can look forward to whole range of events, from trialling the latest Oculus VR headset at CES in January, to attending the largest event in the mobile calendar next month, on the coastline of Barcelona. Here are the top high profile events in tech, that CIO have highlighted for 2016.
Whichever networking opportunities and industry events you settle on, don't miss your chance to make a meaningful first impression, transforming these connections into an effective drive for your business.
Four entrepreneurs in the tech industry share their top tips for effective networking:
1. Be Selective And Remember Your Goal.
Networking opportunities may vary between industry. They may involve attending industry events, acting as a key speaker in a conference, a member in a professional association. There are a great number of options – be sure to broaden outside of your own industry groups to reach your customer base. You want to position yourself as an expert in your industry, but consider how your business will directly benefit through investing your time in these activities.
"Naturally, I'm an introvert. Which is quite odd for an entrepreneur. I usually try and do my homework and only attend networking events that I can have a particular "ask" at. That way I have goal in mind, selecting who I want to talk to and for what reason. I think this is a good rule of thumb so time isn't wasted." – Chris Buttenham, Tasytt
2. Create a strong dialogue.
A networking situation is not an opportunity to test others. This should be a chance to gain contacts, potential business leads as well as comrades in your industry. Simple tactics such as an easy opening question that will lead another into a light conversation, and open-ended questions can go a long way. Positivity is key. As a leader you have a passion for your industry at the core of your product offering, share this passion with others.
"The main thing is to be confident about yourself and your business when entering into a conversation in a networking scenario. Don't underestimate the power of light humour, through remember your focal purpose, keep a contact card handy and follow up." – Sergio Torres, Blackartel
3. Don't Overdo The Pitch.
Try not to fall into the trap of sales pitching each person you come into contact with. A more subtle approach, igniting a common interest, will make a far better lasting impression. Likewise don't be aggressive in the conversation – let others speak, listen to what they say and remember it.
"Like friendships, it's better to focus more on the other person than on yourself. A lot of people stress over the phrasing of that perfect elevator pitch, or of not missing the next opportunity. The truth is if you're passionate about what you do and are a generous person in the moment, that generosity will come back to you." – Jordan Wills, Cloud9 Smarthome
4. Be professional, but personal.
Remember relationships take time to cement. A personal approach can go a long way. Rather than simply searching for business leads you also have a huge wealth of information and experiences accessible through communicating on a more personal level.
"My approach to networking situations is just to have fun and try to know people at a personal level.

Let people talk, people love to talk about themselves, this will make them feel good and remember you the next time you try to establish contact. You can also learn a lot but simply listening to others. Whilst networking is primarily a way for you to make some noise in your industry it is also a way of connecting with your contemporaries and this should not be forgotten. It is important to be prepared. Have an idea about what you need to know or achieve with the person you talking to and ask those questions while socializing." – Ali Benmoussa, Searchub
Today various forms of technology exist to support your networking experience. Online professional networking platforms such as LinkedIn let users connect with others, and share valuable information. This is further supported by the huge number of digital industry sites and communities that help entrepreneurs keep up to date on relevant topics. There are a whole range of apps to find relevant local events, remember contacts and even matchmake professional profiles.
Only last year the founders of popular dating app Tinder transferred their technical expertise to the business world, in the creation of their new networking app for Forbes Under 30 professionals. Launching the app at the Forbes Under 30 Summit in October, they provided a way for young professionals at the conference to connect. This innovation is a great example highlighting the successful synergy of tech and human interaction used to build new connections at the event.
As online business communications continue to replace personal face to face experiences, more and more leaders are remembering the importance of networking in building personal relationships and business success.
Emma Rosser resides in Medellin, Colombia, and splits her time covering current affairs in the country with leading publication Colombia Reports and exploring trends in the tech start-up space with PR experts Publicize.