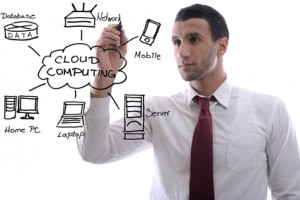 Cloud computing has been something of a revolution for the IT industry, changing the way that businesses operate forever. As we move into the digital age, it's time to seriously consider what cloud computing means for the future. With cloud computing set to be standard by 2020 many businesses have already switched to cloud computing, in fact almost 80% of businesses in the UK alone are using cloud solutions.
If you haven't yet made the changeover then now is certainly the time. Let's take a look at why cloud computing is the best solution for small businesses:
Changing Business Processes.
Cloud computing can be incredibly freeing for businesses of all kinds, but it's especially beneficial to smaller businesses that are working on limited resources. Cloud computing is a more flexible way of operating a business successfully, as people can access and launch cloud applications from pretty much any kind of smart device. The advent of cloud computing has transformed the working week almost overnight; no longer bound by the office and the 9-5 working hours, employees can pull up projects, documents and work emails from their laptops, tablets and even smart phones.
For small businesses, this is nothing short of a Godsend. When trying to get established, people involved in SMEs often need to be able to work at all hours if need be, and cloud computing services from companies like Logicalis is the perfect solution.
Cost Effective Solutions.
Cloud computing is also popular because it can be very cost effective, which again is very handy for smaller businesses, for whom every penny counts. Saving money wherever possible is extremely important, and with cloud computing you are much less reliant on expensive machinery and processes that is not only costly, but time-consuming to maintain. There are plenty of affordable cloud computing solutions available to smaller businesses that will help them to save money in the long run.
Built To Fit.
It's a common and pervasive myth that cloud computing is very much 'one size fits all,' but this couldn't be further from the truth. There are three main forms of cloud computing: public, private and hybrid. While the public cloud means sharing space with other businesses, there are companies that will provide you with a service that has been designed to meet your specific needs as an organisation. For example, if you work with sensitive information (such a patient details in the medical sector), then you can acquire private cloud computing services.
Cloud computing is the way of the future, and it won't be long before the majority of businesses in the world are operating with these high-tech and highly secure solutions.