by Donna Cutting, Founder & CEO of Red Carpet Learning Systems, Inc. and the author of "501 Ways to Roll Out the Red Carpet for Your Customers"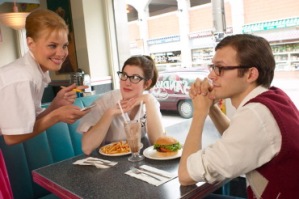 For many businesses, the holiday season is one of the busiest times of the year. But it certainly is not the time slack off on service. In fact, in today's market, there is a direct correlation between service and sales.  70% of buying experiences are based on how the customer feels they're being treated. (McKinsey, 2014).
The holidays are hectic and can be stressful for customers and staff alike. Roll out the red carpet for them both and you may find yourself earning rave reviews and repeat customers in the new-year.
Here are ten tips to get you started:
1. Get Your Staff Red-Carpet Ready.
Communication is key during this busy season. Arm your team member with the information they need to answer frequently asked questions, and empower them to do what it takes to make your customers happy. Let them know what they can do without asking, and when they need to escalate a problem to the manager.
Taking 10-15 minutes in the morning to get everyone on the same page is time well spent. In fact, that's a tip you can take to the bank any time of year, but is especially critical during the holidays.
2. Give Seasonal Staff a Red-Carpet Welcome.
Don't shortchange seasonal staff when it comes to training. Provide an excellent, if abbreviated, orientation to your company culture and expectations and enlist the help of your best employees to train them in how to best help you during the holiday season.
Give your temporary help the opportunity to shine too! Keep your eyes open. You might find that a temp or two become your next rock star recruits.
3. Roll out the Holiday Hospitality.
Remember, there are at least two parts to outstanding customer service: the Technical (or tasks) side and the Hospitality side. Train your team on both areas and ensure they truly give your customers a red carpet welcome. In other words, remind them to:
Look them in the eyes and smile
Call customers by name
Escort them to a location rather than point
Provide a sincere and friendly greeting
Thank them for being a customer
Don't just assume this is common sense. Offer your team members the guidance and the training they need to warmly welcome your customers and guests.
4. Surprise with Seasonal Delight.
The holidays are the perfect time to delight your customers with seasonal surprises. This could be as simple as an unexpected cup of hot cocoa or candy canes for the kids. Or, you could pull out all the stops like Westfield Shopping Centers. Says Jeff Adams, senior director of customer service and marketing, "As part of our overall holiday strategy (in 2013) we wanted to find a way to bring service even more to the forefront during the busiest time of the year." Enter the Westfield Merry Makers. "We wanted to make the holiday shopping period a little less stressful and a lot more fun by creating unexpected moments of delight and practicing random acts of kindness.
Dressed in holiday attire, the Westfield Merry Makers deliver random performances, do random acts of kindnesses, and surprise customers with random gifts.
5. Act with Urgency.
People are stressed and strapped for time during the holiday season. Teach your staff to act with urgency when responding to customer requests. Nothing is worse than being in a rush and watching the person behind the counter act as if they had all the time in the world.
6. Practice Personalization.
There's nothing like a personalized experience to make your customers feel like they matter. It can be as simple as calling someone by name, or remembering something about their last visit and referring back to it as you chat with them.
Use your powers of observation to notice details about your customers and use it to delight them. For instance, at the Hotel at Auburn University, the team uses a process for preference. When they notice, for instance, the empty Dr. Pepper cans in your wastebasket, they might use that information to surprise you with a six-pack of your favorite soda.
The holidays are a perfect time to personalize. Develop a process for recording the hobbies/interests of your customer's family and friends. Next year, they'll be delighted when you point out the perfect gift for their Dad the fisherman or their best friend the thespian.
7. Lead by Example.
Now is not the time for managers and other leaders to hide in their office. Take a seasonal stroll on the floor and check in with team members. Pitch in. Be available to answer employee questions and help customers. It never hurts for people to see the boss out and about, caring about customers and assisting the staff!
8. Leave a Lasting Impression.
While it's important to have people at hello, you should keep them with goodbye. Train your team to acknowledge a customer's departure, sending them off with a wide smile and a thank you. Offer a hearty, "Happy New Year" and remember to invite them to come back.
9. Recover with Style.
With the holidays comes stress and that sometimes means cranky customers. The key is to never take it personally. Remain calm and professional and do your best to help the person in front of you.
If you're faced with an upset customer, keep silent (at first) and listen carefully to their complaint. Respond with empathy and regret as in, "I understand how you feel. I'm so sorry you're having this experience."
Once you've defused their frustration a bit, follow it up by asking, "What can I do to make this right?" Or say, "I will do everything within my power to resolve this situation to your satisfaction."
As a manager, make sure you give your team members with the training and ability to help customers with their concerns. The less people involved in resolving a customer complaint, the happier the customer.
10. Give Standing Ovations to Your Staff.
Keep your team members inspired to be at their best by giving them some red carpet treatment of their own! Offer sincere, specific, spontaneous praise and do it soon. When you see a team member giving great service to a customer, let them know at the next opportunity.
Plan mini-celebrations of goals met, and opportunities to relax and relieve some stress. Surprise your team with chair massages in the break room, or provide healthy holiday treats to keep their energy up. Promise a fun reward once you get through the season.
Most importantly, thank them and thank them often. Your customers are not the only ones who are stressed this time of year. You may never know the big difference a simple thank you can make. Larry Sternberg, president of Talent Plus, a Lincoln, Nebraska-based firm that helps companies with employee selection, says it best. "When you tell one of your associates that you appreciate the contribution she has made, or that you are glad he's here, you emotionally rehire them."
Roll out the red carpet during the holiday season and you'll set the stage for delighted customers, successful staff, and a very Happy New Year for you and your business.
Donna Cutting is the Founder & CEO of Red Carpet Learning Systems, Inc., which provides tools and training for engaging staff to improve the customer experience. She is an in-demand keynote speaker, and the author of the new book, "501 Ways to Roll Out the Red Carpet for Your Customers: Easy-to-Implement Ideas to Inspire Loyalty, Get New Customers, and Make a Lasting Impression".