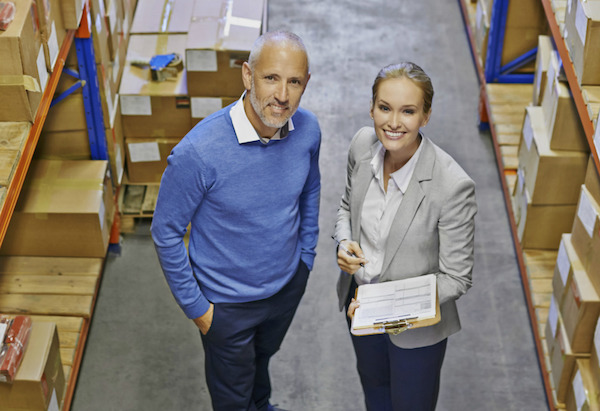 There you are, lounging in your ivory tower of an office complex, sun glinting through your 43rd floor window. A newton's cradle sways to and fro and you sit in your chair like a Bond villain. But something niggles at you from the back of your mind.
You're in the lap of luxury. But then you begin to remember disgruntled workers in your warehouse.
Yes, that was it, some kind of picket line and a few burning tyres. Oh Christ! You think, barrelling off your chair like you'd been given an electric shock. No one in my warehouse is satisfied!
With shoddy warehouse management comes agitated workers. And with dissatisfied workers comes potential strike action and productivity grinding to a halt.
So don't lounge too far back in your office chair. You've got to sort out your warehouse – but how?
Lifting spirits (and boxes).
When your forklift trucks are sputtering and clattering like a contraption from the Acme Corporation, you can guarantee that your workplace will suffer. Constant breakdowns, failing exhausts and easily drained batteries – it's time to replace your ancient trucks.
Fork trucks for sale from various places online, and some providers can offer you refurbished trucks at low prices.
With a new set of trucks, your fuel economy will be greater and breakdowns fewer. What's more, you'll have a troupe of satisfied workers with the shiniest machinery to work with. So if your fork lifts are faltering, you know what to do.
Safe and secure.
Safety should be a key concern in any warehouse, but a worryingly large number of employers will skimp on investment in safety gear. And when you don't care about worker safety, the likelihood of an accident will increase dramatically.
To combat nasty slips, trips and falls, bring in a safety officer to survey your entire premises. They'll point out any holes in your safety records. Patch up these potential dangers and you'll avoid the vast majority of accidents in your workplace.
Listen up!
You see those picket lines and burning tyres outside your warehouse? They didn't get there for nothing. At their root is a lack of communication.
If you don't want your workers to get irate, initiate an open door policy for any problems they might have.
While you won't be able to implement all changes they request, sometimes listening is enough. But the real trick will be to decrease the number of complaints you'll have to address. Employees can sympathise with a boss who's trying their best. So make an effort and the chance of seeing burning tyres outside your warehouse will drop dramatically.