By Nick Goode, Commercial Director at Sage One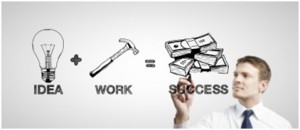 The whole hobby-to-business proposition is a little misleading — primarily because we need to rethink the word "hobby." When we hear it, we think of those fun, voluntary pastimes that bring us enjoyment and help us make the most of our free time: reading, collecting stamps, community theatre — they're all things that we do because we enjoy doing them. But is simply enjoying stamp collecting enough to translate your hobby into a successful, thriving, and sustainable career?
What we're really talking about here is "passion." When your hobby becomes something all-consuming—that thing you think about all day long during work and jump right into as soon as your time is yours again — that's more than a hobby; that's a passion with potential. And that passion is what represents something that can be both personally and professionally sustainable.
Here are a few areas to consider before taking the leap:
Social Media — It's Already Working For You.
Your first stop on this journey from hobby to business is unquestionably: Get Social. In my view, social media is still a relatively untapped resource — and it's one tool every hobbyist already has at their disposal to do the most basic market research. Start with Facebook and search for people with businesses like the one you're considering. Since it's unlikely your idea is going to be of Tesla-level uniqueness within the small business community, there will be many similar businesses you can learn from. Which appeal to followers the most? Which are most successful and why? Steal ideas with pride and connect with followers to learn as much as you can.
When researching this topic, I immediately turned to my Twitter community for insight. Using the hashtag #hobby2business I posted a photograph, tagged eight of my followers from the small business world, and asked for their advice on turning a hobby into a business. Within an hour, coworkers from my office were retweeting and tagging others, and my feed was full of #hobby2business content and advice. My favorite?
@PennyPower | Build community. Without social media, your use of it, and the connections you make with the people who will help you, your hobby will most likely remain just that.
Differentiate From Day One.
What makes a good business? Remember the seven P's of marketing: product, price, promotion, place, packaging, positioning, and people. As an entrepreneur, you're going to need to define all of these things in order to figure out where you stand in the marketplace—and how you can do it better than everyone else.
First, intimately understand the product you want to sell. Even if it's a service, think of it as a product — what are its features? Why are they appealing? What is the size of your target market, and what percentage of that market do you anticipate will buy it? What are others charging for something similar?
You'll also need to consider the logistics of getting your product to the people who want to buy it. If you're selling online, where would your consumers naturally go to get your product? eBay? Amazon? Your own website? What apps will you need to collect money and get paid? Will you need storage, packaging, or shipping services? These channels are your routes to market, so defining them will also help you build a strategy for finding customers and making it as easy as possible for them to buy from you.
And while it's important to identify these things, don't overthink it. Unless you are inventing a patented product (which is rare in the hobby-to-business landscape) you're probably going to differentiate on price, service, audience, and the product itself in comparison to what's already out there. Embrace these things and use them to help set yourself apart from the competition.
Business Is Both Fun and Dull All The Time.
Fun is a small word with a huge impact on our lives, so it makes sense that we'd prioritize injecting fun into our business lives whenever possible. And, if you're thinking about becoming your own boss, the ability to capitalize on fun is definitely one of the advantages: you can wear whatever you want, play music while you work, control the tone and presentation of your product — you'll be in control of a lot of fun, new components of your business.
However, even the most fun business is still just that — a business. There are a lot of decidedly un-fun and dull responsibilities that your business requires to remain successful and profitable. Finance, administration, inventory — these are all things most small businesses owners do not go into business to learn how to do. That being said, there are ways to help minimize the impact of these dull tasks so you can focus on the fun stuff:
Get a bookkeeper or an accountant from day one. Explain that you are a very small business on a shoestring budget, and that you don't need corporate advice — you just want to get the basics right.
You're going to want mobile and online offerings first, so find a bookkeeper who does the same. You'll get the advice and help you need without spending time and money travelling to meet them in person.
Use an accounting app that your bookkeeper recommends. Every dollar you spend on your business counts towards your success.
Learn the basics of accounting, invoicing, expense management, tax returns, and cash flow. Accept that your success depends on it. You don't have to be an expert but you will fail without mastering the basics of accounting.
For everything else you need help with, use sites like www.upwork.com and www.peopleperhour.com to get freelance help. These sites offer experts on demand and at an affordable price.
Do The Math and Get More Help.
Fundamentally, every business needs to answer this simple equation to find success: revenue minus cost. To make sure your business is financially stable, start by figuring out how much income you need along with how much product you need to sell, and what your costs are. Then you'll need to calculate how to manage the cash flow (the money you need to make the business work) as you ramp up. Keep going over these numbers.
If you are useless at numbers, don't give up — get help! It's a given that you will be weak in some areas of your business — after all, your passion for your hobby is not enough to keep a business up and running smoothly. The good news is that anyone in marketing, finance commercial management, product management, or your bookkeeper can help you. And don't forget your friends and neighbours: your community includes people who will do things pro bono, provided that you can help them back. Be open to this. The social-first generation is all about mutual support (and that's what makes it awesome!).
Your "Why" Should Not Be Because You Hate Commuting.
In his book "Start with Why: How Great Leaders Inspire Everyone to Take Action", Simon Sinek challenges what and how thinking. While what and how are the yin and yang of everything, why is the driving force. So why didn't I start the article with the why? Because the hobby-to-business process is agile rather than step-by-step — you need to consider each of these areas over and over; you can refine your why as you go.
But first, ask yourself why you want to make a career out of your hobby? Boil down the essence of your purpose because it will drive you to success. Without identifying the why you will not tap into the real reason you are changing your life. If that sounds bold, it is—you're changing your life for a reason and you should be able to explain what that reason is; whether it's to save your health, become the person you were told you couldn't be, or because the real you is not stuck in a call center, defining the real, fundamental reasons why you want to transform your passion into your business will help you ultimately be more successful. Try to complete this sentence:
I am doing this to [enter bold life-changing statement here].
If we all did this, we'd change the world faster. Define the why today and reach for the highest branch.
Be Ready To Put Yourself First.
Corporations create context, like a river that flows: join in and drive and you'll be part of the solution; float along and you'll end up as part of the problem. We've all been there at one time or another.
Your hobby-to-business journey includes the acceptance that you will now be the river. No one else is going to create the environment, motivation, and drive you need to get things accomplished. As the owner of a business, you are on your own.
To be the best you can be, put yourself first. For me, it's important to exercise every day, eat healthfully, and get the right amount of rest. If that meant buying a spinning bike for my house or cooking and freezing healthy meals in batches to save time — so be it. Make sure you can identify what keeps you happy, healthy, and grounded before you make the jump to living your passion on a full-time basis. When you are your own company, you're the source of your own success; make sure the journey is worth it.
Conclusion.
Now more than ever we are encouraged to do what we love. After all, life's too short for a boring job, bad bosses, and doing something you hate just to earn a paycheck. And because technology now enables work to be a thing you do rather than a place you go, the opportunity to identify and develop unique career pathways is greater than ever! For example, social, political, and environmental awareness has helped organizations such as Freecycle to flourish; a global movement toward embracing "makers" has built revolutionary sites like Etsy. We're blessed, as a society, with an unprecedented combination of time, technology, information, and the quantified self: yes, we want it all.
And we can have it, too — as long as we channel our passions in the right places. For all of you who are thinking about turning your hobby into a business, I hope you found these insights helpful and I wish you luck!
Nick Goode is the Global Commercial Director of Sage One, Sage's cloud accounting and payroll solution for start-ups and small businesses. Goode is accountable for the commercial, channel, product and marketing strategy for Sage One worldwide. Goode is previously Head of Sage One for Sage UK, and prior to that, Head of Marketing for the Accountants Division at Sage.